It's late April – early May. For the past 8 years that means only one thing to me… BABY BEARS in Cades Cove!!!
It doesn't matter how many times you've seen or photographed these critters. They're just too cute. Something about the whole Spring awakening thing just draws me back. I have to photograph and observe BABY BEARS!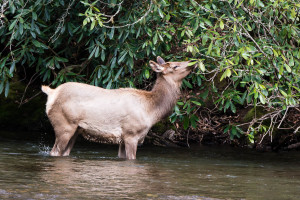 Other animals in the park like this Elk in the Oconaluftee River try to divert my attention from baby bears. I must be strong in my resolve!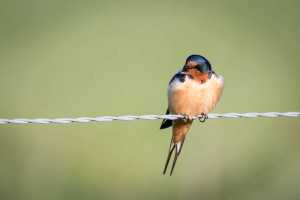 Even small birdies like this Barn Swallow are hanging on the fence wires in Cades Cove. They would have you use up precious space on your camera's memory cards that could be used for baby bears.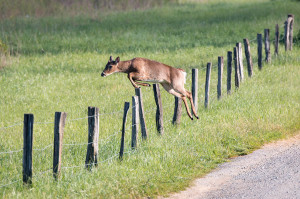 Yes, even the deer are in on the plot. They start doing trick jumps over the fences that are hard to ignore.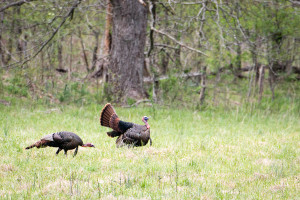 Next come the Wild Turkeys doing their displays and chasing the females. If the little birds didn't get your attention then maybe the big ones will. I'm not falling for it!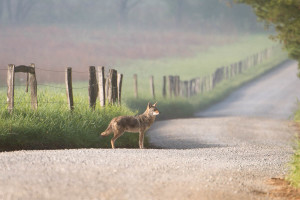 Now the animals are bringing out the "big guns"… It's a Coyote in the early morning mist on Hyatt Lane. I'm sensing the dark side of the force just pulling me away from my baby bear objective. Must be strong!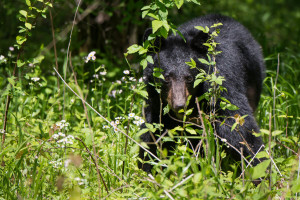 In my confused state, anything might crawl out of the weeds and try to change my priorities.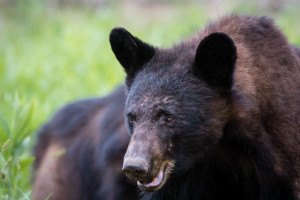 But, at the end of the day, an adult bear is just that…an ADULT bear, NOT a baby bear.
Don't be fooled!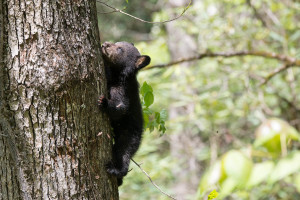 Now THIS is more like it! A tiny baby bear so young and small that his eyes are still blue. That's what I'm talking about.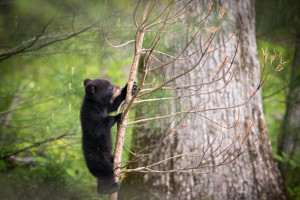 If you're a baby bear then climbing is an important skill to acquire. It's good to start with a smaller tree before attempting to scale one of the old-growth monsters in the park.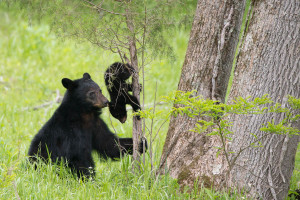 You can count on Mom to hand out some gentile coaching when you're headed in the wrong direction. It's not her first rodeo.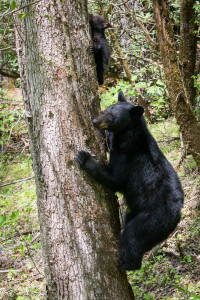 Momma bear will get right in there to show her baby the ropes. Besides, she can't eat unless she knows her baby is safely tucked away on a high limb and away from predators. She's behind her little guy all the way.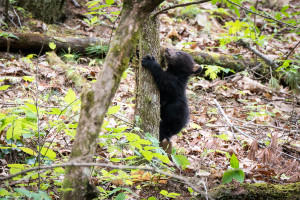 Even when they know what to do it's still a daunting challenge.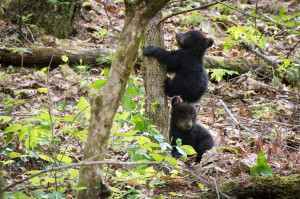 In times like these it's great to have a little brother or sister who can offer a boost or word of encouragement. What is family for?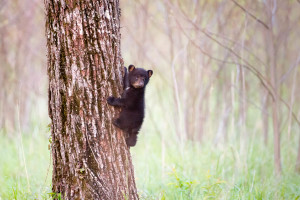 This one's starting to get the hang of it but, still looks back to Mom for reassurance. Looking good!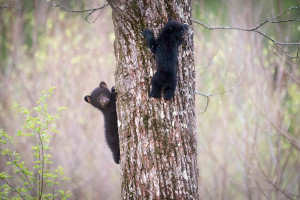 Sibling rivalry means "Let's race to the top!"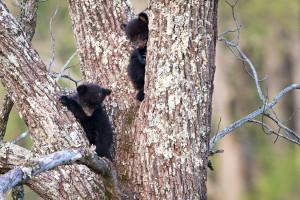 Once you get up there it's spectacular to look down on the world below.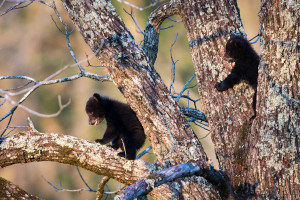 Beware the pushy sister when she dares you to walk out on some high limb. It's a LONG way down!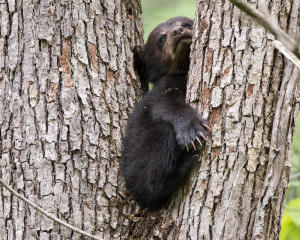 It's better to just find a comfy spot on the tree somewhere and chill while Mom grazes for food below.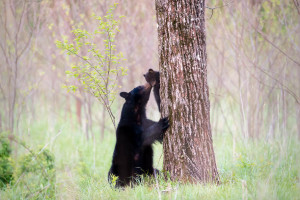 But, the best part about climbing trees is when Mom calls you down and plants a warm mushy kiss on your cheek. Baby bear life is pretty good!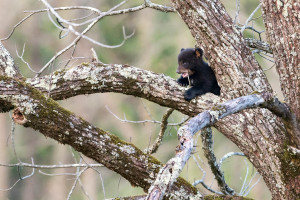 This little fellow is watching Mom eat below him and decides to try his new teeth on a small twig. Yuck! Great for teething but, not very tasty.
It's time to climb down and get some REAL food.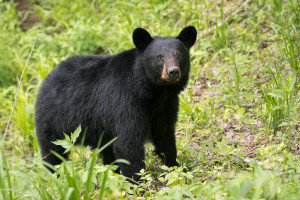 Might as well face it… These baby bears have one heck of a Mom. Look at that beautiful black coat.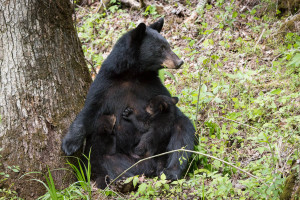 The dinner bell has rung and these two babies have found the spigots.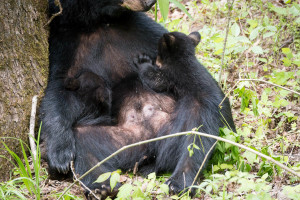 We were simply in awe that this Mother bear allowed us to quietly and calmly photograph her feeding her young. I'm still amazed when I look at my images from that day.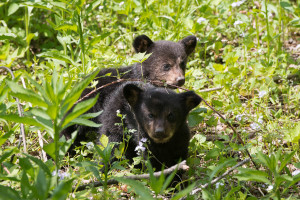 After dinner it's time to play!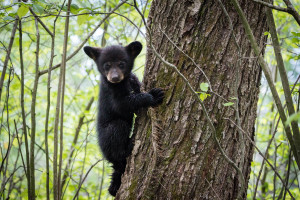 Well, it's about time to wrap up this special Baby Bear blog post so I'll leave you with a few more shots of baby bears.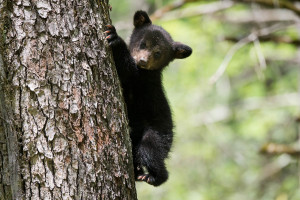 You gotta love this little guy searching for his foot hold.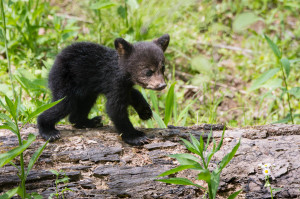 Finally, I'll close with this tiny little guy boldly walking down a log. Maximum cuteness factor!
In our nearly 2 week trip to Cades Cove this year we were fortunate to see lots of bears. One day I counted 18. That's my record for a single day. We thought we would be blessed with several baby bears because there was a record acorn crop in the Smokies this winter.
Most bears were distant, hidden behind brush or in poor light. You have to be patient, stay focused, know where to go and understand bear behavior to get decent shots. I'm quite pleased with what I got! Hope you enjoy the images as much as I enjoyed making them.