My wife and I spent Christmas week this year in Hampton, VA visiting with her family. It's always great to spend time with them but, it's also fun to get out and see some of the wildlife nearby.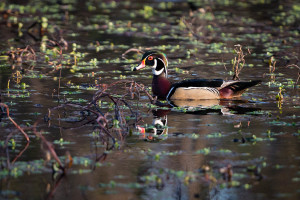 Just a short drive from Hampton is Huntington Park in Newport News. Within this 60 acre park there's a little 3 acre lake, Lake Biggins. Quite often I've found it home to a wide variety of ducks, raptors and river otters. This is the first time I've seen Wood Ducks there.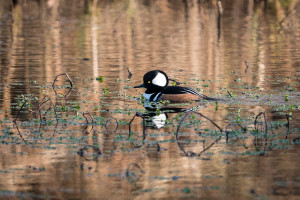 Also notable were a handful of male and female Hooded Mergansers.
I rarely visit the Eastern Shore of Virginia without taking at least a day trip up to Chincoteague National Wildlife Refuge. It's one of my favorite birding spots and only 2 1/2 hours from Hampton.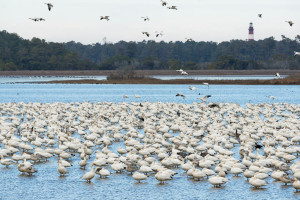 Early winter is a particularly good time to visit because thousands of Snow Geese are migrating through the area. Here's a few in Swans Cove Pool. That's the Assateague Light in the distance.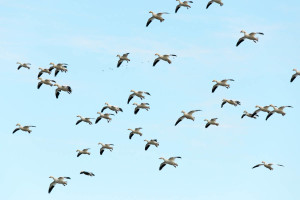 They keep coming and coming!
The Snow Goose population here can range as high as 50,000. We only saw one or two thousand the day of our visit.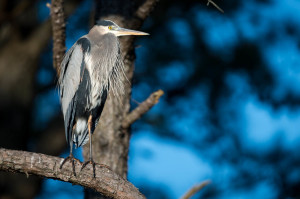 Chincoteague NWR is home to lots of wildlife like this Great Blue Heron that you can see pretty much any time of year that you go there. We get jaded seeing the same thing each visit so it's nice to be surprised with something new and unusual.
My sister in law, Barb, accompanied me on this day. She struck up a conversation with a passing birder and asked her if she had seen anything notable. The answer she got was unbelievable…a Snowy Owl on the beach out near Toms Cove. Say what???
Snowy owls live way up north on the tundra above the Arctic Circle. They rarely come much further south than Canada. They are the largest (by weight) North American owl. We stopped a second birder we saw and she too confirmed the sighting and gave us a more specific area to focus our search. Without delay, we headed for the beach!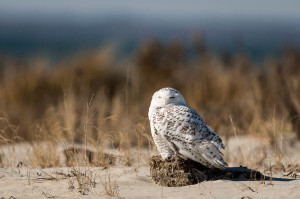 We drove as far south on the beach as is possible without an off-road permit. I parked the car, got out and scanned the beach with binoculars. Within moments I spotted the owl on the ocean side of the beach. We grabbed our cameras and tripods and found a nice position with decent light on the bird. Wow…just WOW!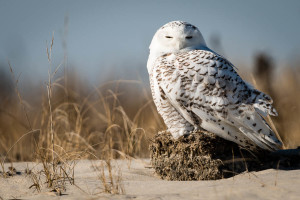 We couldn't decide if it was an adult female or an immature male. Hard to say.
It didn't seem to be stressed at our presence so each time it looked away I would inch a bit closer. We observed it there for about 10 minutes.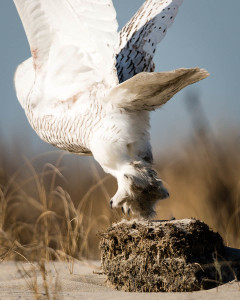 Without warning it jumped up and flew several yards to the Toms Cove side of the beach. Naturally, we had to follow…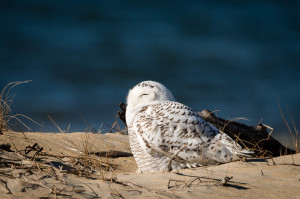 We set up our gear in the new location and began snapping pictures as fast as we could. These birds are a very bright white so I used spot metering to keep from blowing out the white. Nikon didn't let me down.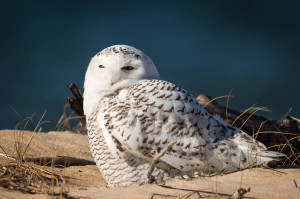 When birds such as the Snowy Owl venture far beyond their normal migration area it's called an "irruption". Evidently, this winter is turning out to be an incredible and perhaps historic Snowy Owl irruption.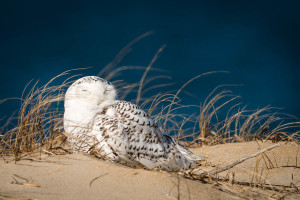 After shooting the Snowy for nearly 45 minutes I happened to look behind me. Barb and I were no longer alone with "our" owl. Several other photographers with big glass had suddenly appeared. We had all the images we wanted so we quietly slipped away.
Absolutely amazing! We couldn't believe what we had just seen. Not in our wildest dreams could we have imagined seeing a Snowy Owl at Chincoteague… much less being able to get as close as we did. We ate our lunch and were ready to go home. The afternoon couldn't possibly compare to the morning we had just had.