Way back in the summer of 1976 I took an epic road trip. I had just graduated from college and decided to drive cross country with two of my buddies. We packed up our tents and sleeping bags and headed west from North Carolina to see the Grand Canyon, Las Vegas,  Bonneville Salt Flats, Mono Lake, Hoover Dam, Yosemite and San Francisco. We even managed to swing by Golden, Colorado on the way back to secure nine cases of Coors beer (a rare commodity east of the Mississippi back then). Ahh, those were the days!
When we returned home I started my career with GE and promised myself that in a couple of years or so I'd strike out on another drive to see Yellowstone and the Tetons. Somehow life and other obligations got in the way. 37 years later and it's now or never to make good on that promise.
On Tuesday September 10, 2013 I headed west once again. This time it was from Hampton, Virginia with my sister-in-law and brother-in-law. We were FINALLY going to embark on the journey we'd been discussing for years.
You may be wondering why we wanted to drive 7,000 miles. Well, that's the best way to really experience our great country. We could be totally in control of our schedule and free to take as many bags of camera gear and clothes as we wanted.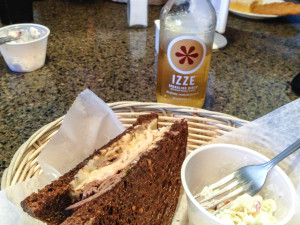 We were able to "Yelp" across the country and visit some excellent local eateries.. Here's the Black Russian sandwich and Izze Sparkling Birch I had for lunch at Kelly's Bakery and Cafe in Bloomington, IL. Yum!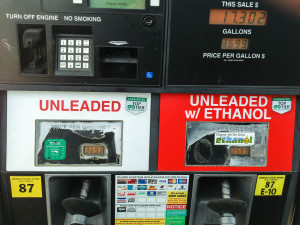 We got to see thousands of acres of corn. Oh boy! That's the same corn that's used to make ethanol for gasoline. One interesting thing we found in Iowa and other corn producing states is that you can buy gas there with or without ethanol. I wish we had that option back east. Just today I replaced the fuel lines on my Weedeater because ethanol gas destroyed them. Don't get me started on all the reasons putting ethanol in gasoline is a very bad thing!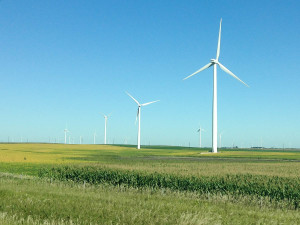 Ethanol production from corn takes more energy and produces more hydrocarbons than you can imagine. It's a "false green" in my book. Wind power is quite another story. We saw thousands of these huge windmills along the road. These things may not be perfect but, they make a lot more sense than ethanol. But, I digress.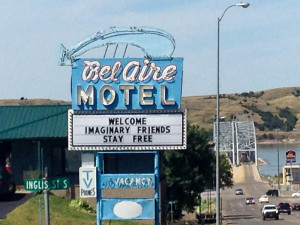 Once we set eyes on the BelAire Motel in Chamberlain, South Dakota we knew we were wise to drive instead of fly. You can't make this stuff up!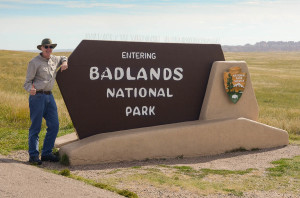 Finally, after three days of driving we reached our first major stop. The Badlands National Park in South Dakota. Woo-woo! Here I am doing the no-holds-barred tourist thing by getting my picture next to the park sign. You can't prove you were ever there unless you have a photo like this. It's one of those things I guess.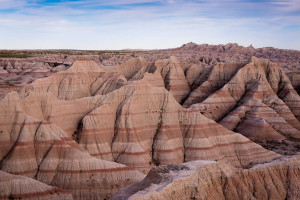 The landscape is quite amazing. Eroded buttes and spires appear other-worldly and display resplendent colors as the sun's light changes. It makes you want to run out and get a degree in geology so you can properly appreciate what's there.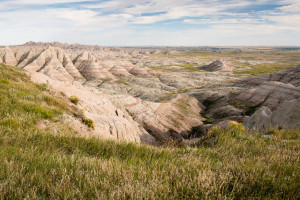 The vistas reach out to the horizon and are set in an endless prairie.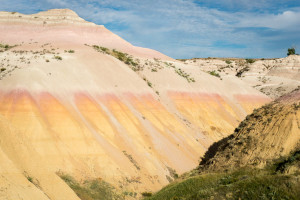 Ancient layers of sediment have left a beautiful pallet of colors and patterns.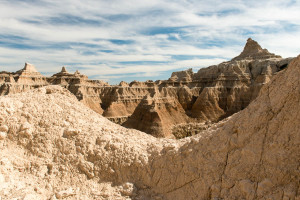 The topography is as rough and unforgiving as it is beautiful. It makes you wonder how anything can eek out an existence there. Yet, there are creatures that thrive.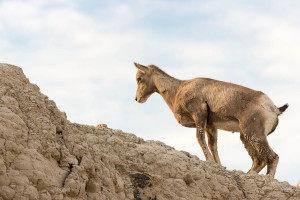 This young Bighorn Sheep had no trouble scaling the rocks to find a bite to eat and keep up with the herd. Audubon's Bighorn Sheep were native to SD but extinct by 1916. The three herds currently in the state were transplanted from Wyoming and Colorado. These herds are in the Badlands, Custer State Park and Spring Creek Canyon in the Black Hills. There are 300-350 among the three herds.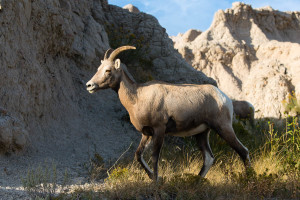 It's exciting to see these beautiful creatures living again in an area where they roamed for thousands of years. They may be transplants but, there's something right about them being there. We didn't see any of the big male Bighorns in the Badlands but, we hoped to see some in Yellowstone.
In addition to the sheep we also saw several Prairie Dogs and a couple of Coyotes. The images I shot were too distant to bother posting here. Later on we got some closer looks at those animals in the Black Hills.
Our quick stop in the Badlands was quite rewarding and served to whet our appetite for even more impressive scenery and interesting critters yet to come. Stay tuned!