Superstorm Sandy took its toll on more than just humans in October. Chincoteague National Wildlife Refuge on the Virginal coast has been home to a pair of Bald Eagles for several years. Their nest was in a grove of pine trees approximately 500 feet from the wildlife loop road. Unfortunately, the storm blew down several trees including the one holding their nest. It was a sad sight to behold.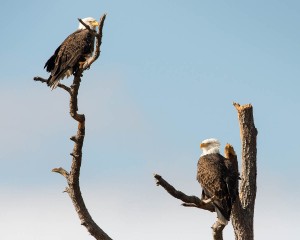 This pair has no home. 🙁
According to the Virginia Department of Game and Inland Fisheries, the Bald Eagle mating season along the Chesapeake Bay begins in November and can last through mid-July. Most eggs are laid from mid-January to late February.
It can take 3 months to build a nest so there's no time to waste.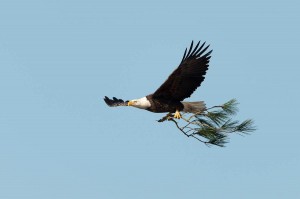 Fortunately, we found our eagles hard at work building their new nest in the same grove of trees.
We watched for hours as both birds brought limbs and other materials from the woods to the north.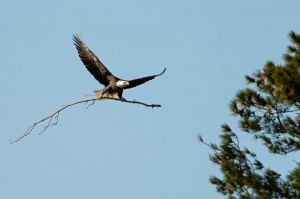 Keep in mind that Bald Eagles are huge and have a wingspan of 6 to 8 feet. Look at the size of the limb this one is hauling. It could be 15 feet long!
They have to have massive building materials because the nest will be around 6 feet in diameter. Big enough to hold a full-grown man with room to spare.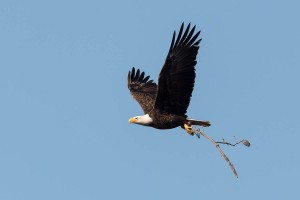 The eagles took turns flying in limbs while one would stay at the job site carefully fitting the materials into place.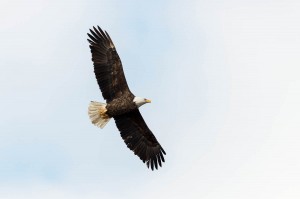 A few times there was a long delay before an eagle returned. We guessed that it might be lunchtime. I was hoping for a flight shot with a fish but, no takeout food was brought back.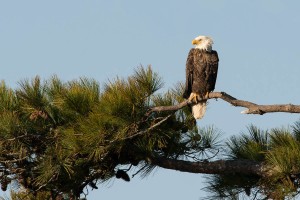 Nest building is hard work. You have to take a break sometimes.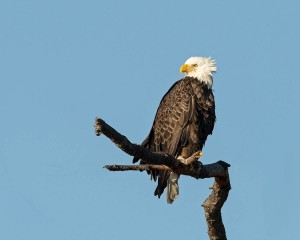 Nothing compares to the regal look of an adult Bald Eagle. It's no wonder they were selected as our national symbol.
We spent most of our time at Chincoteague this trip watching the eagles but, they weren't the only game in town.
One small group of Snow Geese was out in the pond near the beach road. A hawk flew by and got them excited one too many times so they eventually got up and flew away.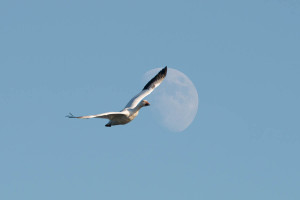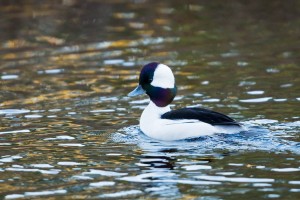 I couldn't resist shooting this lone Snow Goose with the moon. I had to resort to some Photoshop magic to get both of them in focus.
This little male Bufflehead showed up and gave me another opportunity to hone my "Bufflehead photography" skills. I'm getting better but, they're still tough to shoot.
Chincoteague NWR is always a treat. Yes, it's known for the wild ponies but, the bird photo opportunities are unmatched. It just seems that you can get closer to the wildlife here than most places. The ponds and ditches are near the roads and trails and the birds seem to sense that they are safe here. Long lenses are still needed but, most trips produce several keeper images.
I'm already looking forward to my next visit.