A couple of weeks ago my wife and I went up to Cataloochee Valley in the Great Smoky Mountains National Park to see the elk. Late September to early October is the elk breeding season or "rut". During this time you can clearly hear the eerie, long and haunting calls of the bull elk echoing through the mountains. It sounds a little like whale song.
Cataloochee is located near the Southeast corner of the Smokies on the North Carolina side of the park. It's not as large or as heavily visited as Cades Cove most likely due to the difficulty in accessing it. The only way to get there is via a couple of steep and narrow gravel roads. Regardless, it's worth the trip.
We usually come in through Waynesville, NC and stop by the Subway to get sandwiches to go. You'll definitely want to take a cooler along with food and drinks because there's nothing at Cataloochee. The only services they have are restrooms and some camping spots.
The Cataloochee herd is doing quite well and is reported to be around 140 today.
25 Elk were reintroduced in this area in 2001 and another 27 in 2002. These are Manitoban Elk which are the most similar to the now-extinct Eastern Elk that used to roam these hills. They're a little larger than Rocky Mountain Elk and were nearly driven to extinction just like the Eastern Elk in the late 1800's. The Cataloochee herd is doing quite well and is reported to be around 140 today.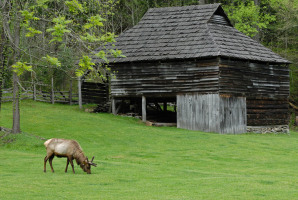 Since we live just north of Atlanta, we visit the Smokies a lot. It's an easy 3 hour drive up there so it makes for a nice day. In all of the times we have visited Cataloochee we have never failed to see elk. Usually, it's after 4pm. Most of the time the bulls are near the Ranger's Station in front of the Messer Barn eating the nice grass. The cows and young are found out in the larger fields.
Only during the rut do you see the males and females hanging out together and only the biggest and baddest bulls earn the right to mate with the females. The cows each join one of a few harems. Managing the harem is a full-time job for a bull with little time for eating. Keeping other bulls at bay and breeding is pretty much all they do at this time of year.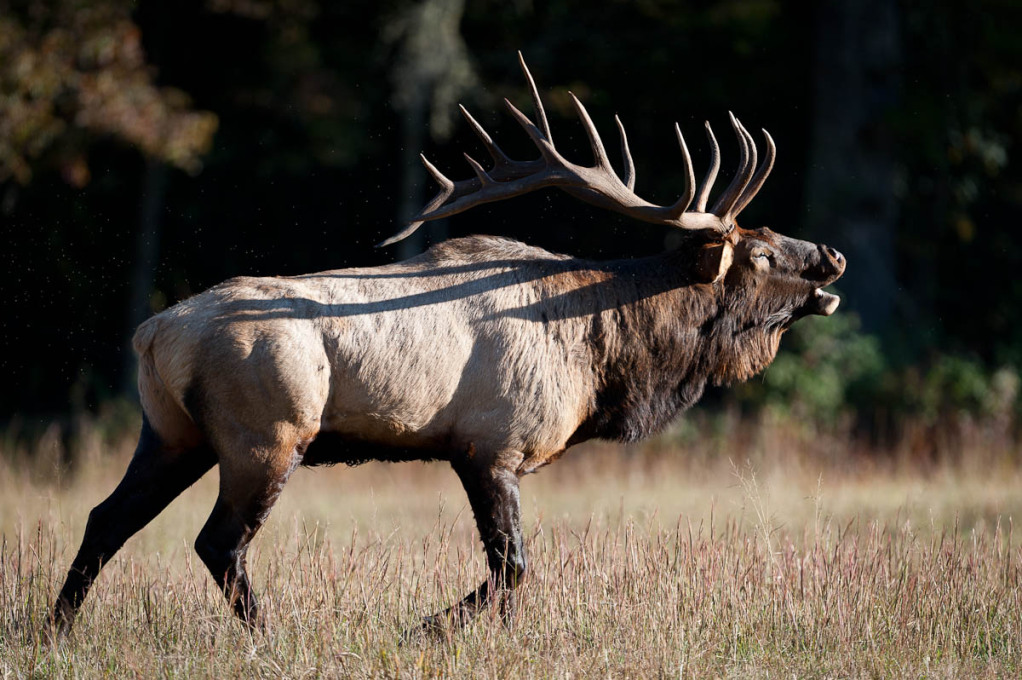 In the early years, all of the elk were fitted with ear tags and radio collars. Now that the herd is thriving, the Park Service is not doing that any longer. It's a lot more photographer friendly.
If you haven't had the pleasure of seeing the elk at Cataloochee then you need to make a point of going there.