This is my first post in several months. The combination of my cateract surgery, my wife's 2nd back surgery and the death of my brother-in-law, Frank, have kept me away from photography. Things have settled down a bit so, let's see some bears!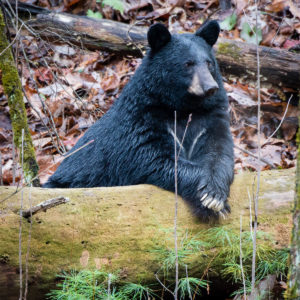 This image was actually shot in December 2016. A big bear was just hanging out near the Henry Whitehead Cabin on Forge Creek Road in Cades Cove. He was just watching the tourists drive by. I couldn't resist shooting the pose with the paws crossed.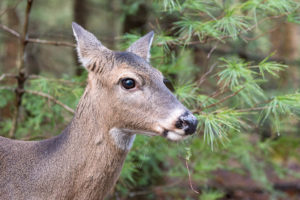 Not a bear but, who doesn't love a portrait of a deer?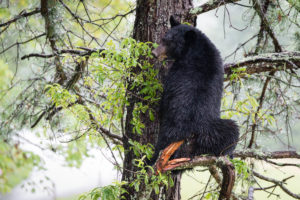 This bear image was shot in May 2017. It was a rainy drizzly day so there's lots of contrast in the tree trunks and a camera-friendly reduced dynamic range.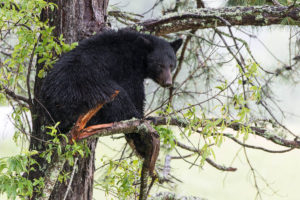 The tree this bear is in was just a few inches off of Cades Cove Loop Road. He was simply trying to grab a bite to eat but, the bear-jam was growing bigger and starting to irritate him.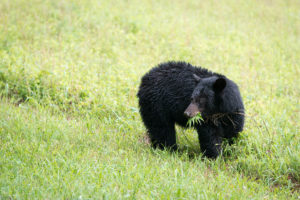 Time to get out of the tree and eat in peace. He's got some "take-out" leaves from the tree to munch out in the field.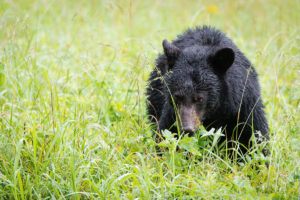 This is what a bear looks like that wants to cross the road but, has to deal with a bear-jam in the way. Unfortunately for me, he decided that my location was where he wanted to cross. I was using a 400mm lens and this bear looked way too close in my viewfinder. I quickly retreated to my car.
It's so good to be back in the park watching animals again. I can't wait to return.