UPDATE: I am saddened to report that we lost Frank at 12:05AM on Saturday Sept 24, 2016. He was in his home surrounded by his wife, Barbara, his sister in law, Carol, and his 3 dogs.
We will miss him greatly.
---
My brother-in-law, Frank R. Severance, is fighting for his life. I can't let another moment pass before letting him know what he's meant to me.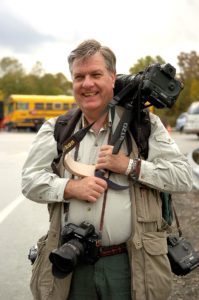 Frank was born in Maine in 1945 and grew up near Kennebunkport. He referred to himself as one of the "Paddy Creek Boys".
His father worked in the pulp and paper industry so prevalent in Maine back then. He held a management position at a paper converting factory that made part of the soles of high-end shoes. Frank said that no matter how bad things got when he was young, neither he nor his family ever went without nice shoes. His Mom was loved and respected in the community but, died of cancer way before her time.
Frank did well in high school, excelled in several sports and was an accomplished jazz drummer. When he graduated he didn't feel that college was the right choice for him. He wanted to see the world, embark on some adventures and besides…he needed a job and college was expensive. Pulling lobster pots with Uncle Bozo was ok for part-time work but, not a career. Maybe the US Navy would be a good place to start.
He enlisted into the US Navy right out of high school and began his 34 year adventure. Although he started at the bottom rank of Seaman he knew he'd found a home. Frank worked hard, signed up for all of the extra training he could get and quickly progressed through the ranks. He served during the Vietnam war and was fortunate enough to be assigned to several ships including 3 aircraft carriers; USS America (CV-66), USS Enterprise (CVN-65) and USS Abraham Lincoln (CVN-72). He was a "plank holder" on the Abraham Lincoln and worked closely with Newport News Shipbuilding during the construction, sea trials and early deployments of that ship.
By the time Frank retired from the Navy he had attained the rank of Commander. Needless to say, it's pretty rare for anyone to reach that rank without a degree from Annapolis…much less a "Paddy Creek Boy" with no degree and just a shit-load of confidence, determination and drive to succeed.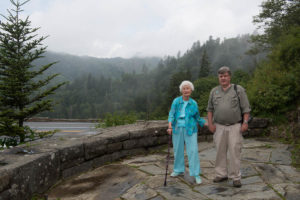 Our paths were brought together when I married his wife's sister, Beth, a year or so after he had married Barbara.
Here's a shot of Frank with our Mother-in-law, Mae, at Newfound Gap in the Great Smoky Mountains National Park. What an extraordinary lady she is but, that's another story for another day.
Frank and I hit it off ok from the beginning but, not great. He was focused on his career in the Navy and I was focused on mine at GE. We had some common interests such as fast cars and electronics but, rarely had enough time together to really get to know one other.
Frank reached out first by inviting Beth and I to come visit he and Barbie in California. This was shortly after Beth and I were married in 1985. Included in the invite was an opportunity to spend an entire day at sea on the USS Enterprise. Frank was the EMO, Electronic Maintenance Material Officer, on the Big-E. I'll never forget cruising under the Golden Gate bridge, watching ear-numbing fighter jet catapult launches and seeing the power of the R2D2 Phalanx close-in weapon system. I was somewhat familiar with the Phalanx since my first job with GE after college was working at GE Ordnance Systems in Pittsfield, MA. GE along with FMC were the only licensed manufacturers of the Phalanx. GE also made 5-inch deck guns for destroyers and Trident missile fire control and guidance systems in Pittsfield. We did lots of work for the US Navy. That gave Frank and I something else in common.
Beth and I returned the favor in 1988 by inviting Frank and Barb to spend a week in the Smokies in a log cabin we'd rented near Gatlinburg, TN. Little did we know that years later we would spend much more time together in the Smokies.
Not to be outdone in 1990, Frank invited Beth's son, Lee, and myself to take a 4-day cruise on the USS Abraham Lincoln from Florida back up to Norfolk, VA. Lee and I had our own private stateroom and ate, slept and experienced just about everything you can imagine about Navy aircraft carrier life. Frank at this point in his career was the Combat Systems Officer on the Lincoln and got us access everywhere onboard except the reactor area. We saw the secret Combat Information Center and Lee even steered the ship from the bridge as the Lincoln steamed alongside a support ship to offload ordinance. Cat launches and landings, live 500lb bomb drops and supersonic fly-bys. How can you top that??? Hanging with Frank is cool!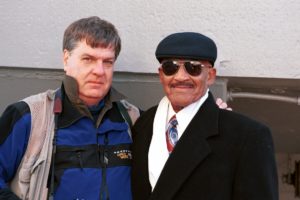 Here's Frank with Master Chief Boatswain's Mate Carl M. Brashear. The movie, Men of Honor, with Cuba Gooding, Jr as Brashear and Robert De Niro as his hard-ass instructor, chronicled his Navy life.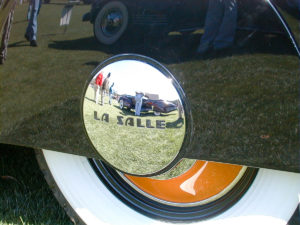 Fast forward to 1998 and Frank hears about a new Concours d'Elegance being held at the Ritz-Carlton in Amelia Island, FL.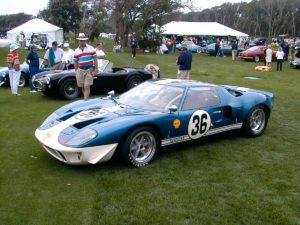 It started in 1996 and is fashioned somewhat after a similar event out at Pebble Beach in California. Amelia will be the "Pebble Beach of the East" and feature the finest, most expensive classic cars in the world all displayed and judged on the beautiful manicured golf course by the ocean. He says we gotta go there!
I think that Amelia was Frank's evil plan to parlay my known weakness for fast cars with his love of photography. He was starting to get me hooked on cameras…Nikon cameras.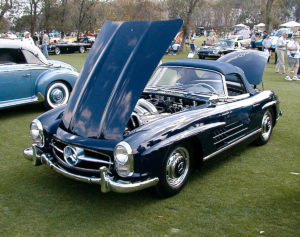 During this period, I had started a little website devoted to Mercedes, MercedesShop, and was selling Mercedes parts on the web. I needed content for the website and what could be better than images of beautiful classic and new Mercedes all in a lovely setting.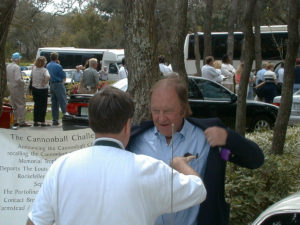 We met a ton of interesting people at Amelia over the years. Here's Frank with Brock Yates of Car and Driver magazine fame, creator of the Cannonball Run race and screenwriter of the Cannonball Run movie. Brock attended Amelia every year from 1998-2000 when I was there. Having a beer with Brock and talking cars was the norm. Frank and Brock became good friends.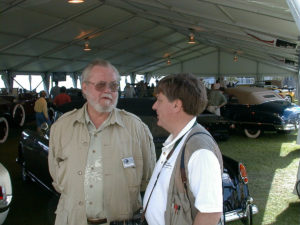 This is Frank with David E. Davis at Amelia. He was an automobile journalist, publisher of Car and Driver magazine and creator of Automobile magazine. He basically created modern automotive journalism. He also hired and fired Brock Yates 3 times over the years. Quite an interesting fellow indeed.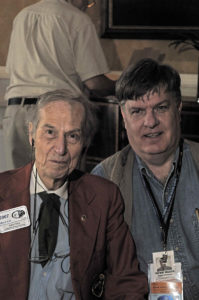 Frank spotted John Fitch at Amelia and struck up a conversation. Fitch was born in 1917 and was really the first American to successfully race cars in Europe. He raced Formula 1, Le Mans, Mille Miglia, Sebring, Carrera Panamerica, Indianapolis…you name it, he did it in the 1950's and 1960's. He partnered with Stirling Moss and Briggs Cunningham. Oh, and he piloted a P-51 Mustang in WWII. If it involved going fast and risking your life, John Fitch was the MAN. Even into his 90's he was still active in the racing world as a consultant.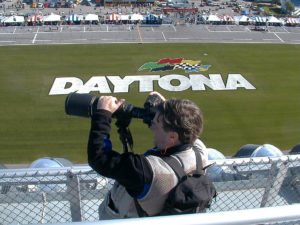 Ok so Frank and I are talking one day and he says we've got to plan a trip down to Daytona in February 2000 to experience the 24 Hours of Daytona. Sounds good to me! We had a BLAST! The only problem was that Daytona had record-setting cold weather that year and I froze my ass off. I didn't care!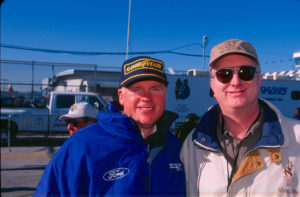 I got a chance to meet Rob Dyson at Daytona and get my picture snapped by famous photographer, Frank R. Severance. Dyson was a driver in endurance racing and is currently the team owner of Dyson Racing. Hanging with Frank is fun!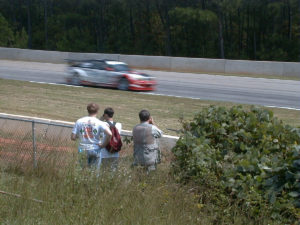 Later in 2000, I invited Frank down to Atlanta so we could attend the Petit LeMans at Road Atlanta. Another endurance race. We spent lots of time in the pits and all around the racetrack that weekend taking tons of pictures. Needless to say, I was getting into photography by this time…and Frank and I were really getting to know and appreciate one other.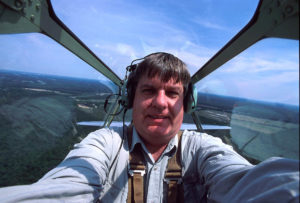 Yes, Frank loves to photograph planes, trains and automobiles but, he REALLY likes to do much more. Here he is in a WWII era 2-seat airplane flying around Norfolk, VA.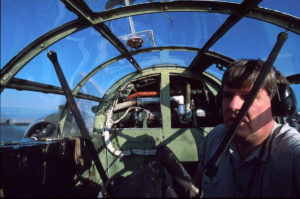 …and here's Frank flying around in a WWII B-25 bomber.
How does he manage to find opportunities to DO shit like this??? He's living the dream!
In the Fall of 2006 Frank invites me to come to Virginia Beach to see the Blue Angels perform at Naval Air Station Oceana.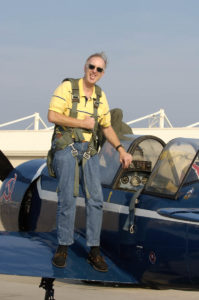 What he didn't tell me until I arrived was that he had something special in store…
Frank hung a parachute on my ass and stuffed me into the back seat of a Russian Yak-52.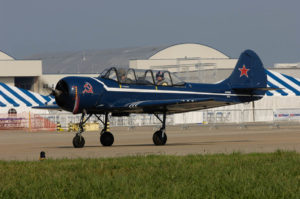 My pilot was an active F-14/F-18 fighter pilot who loved to do aerobatics. HANG ON and try not to lose your lunch! Yee-Ha!
Hanging with Frank gets the blood pumping!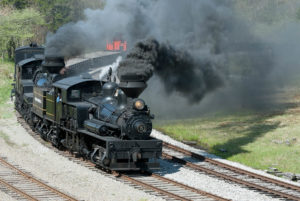 The next year he calls and tells me we need to drive up to West Virginia to see some trains. Not just any trains but real honest-to-God coal burning STEAM trains. Count me in!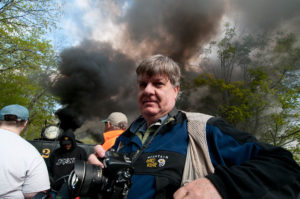 We hopped on board and rode up the mountain from Cass to Spruce. But, that wasn't good enough for Frank. Oh no…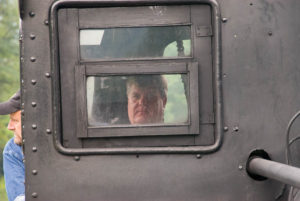 He made friends with the Engineers and Firemen and got to DRIVE the train. Typical Frank.
I went to Cass with him in 2007 and 2008 but, he continued to go up there for several more years.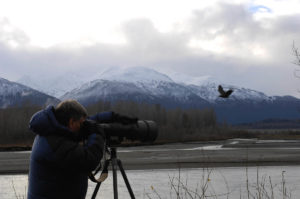 Unfortunately, I missed out on Frank's "bucket list" trip to Alaska in 2007 to shoot eagles and his 2009 trip to England to attend the Goodwood Festival of Speed. But, we took many many memorable trips together from 2008 until the present.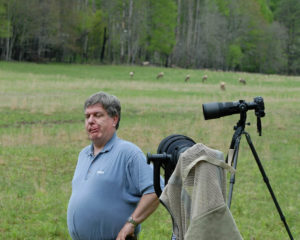 The "consummate professional" honing his craft. Shooting Elk at Cataloochee in the Great Smoky Mountains National Park, 2009.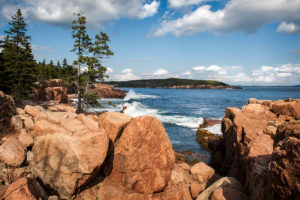 Frank gave us a tour of his beautiful and unforgettable home state of Maine in 2009.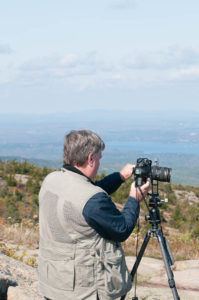 Lining up his shot atop Cadillac Mountain in Acadia National Park, Maine.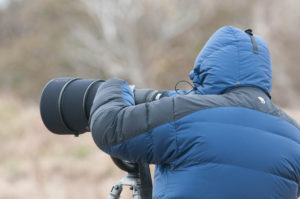 We're freezing our butts off at Alligator River NWR in 2009. Anything for the shot, right?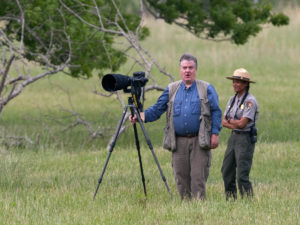 Frank has the ability to go where no-one else is allowed but, convince the park rangers that he NEEDS to be there. He's 'splaining that right here at Cades Cove in 2010. The ranger tells him it's ok but, she needs to make it look like she's reading him the riot act.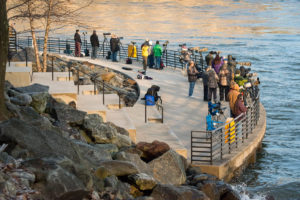 Beth and I would go to Virginia to visit her family around Thanksgiving or Christmas. I would be there about one day and Frank would say we need to drive up the Eastern Shore and go to Conowingo Dam to shoot eagles or Blackwater NWR or Bombay Hook NWR or …
Hanging with Frank is a sure bet that things will not be boring. He always makes certain I am having a good time.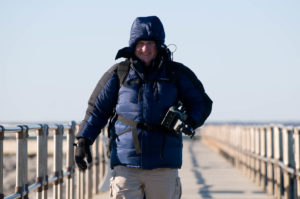 We made a run up to Barnegat Light in NJ just to shoot some Harlequin ducks. It was cold and breezy but, better than sitting on the sofa watching NCIS.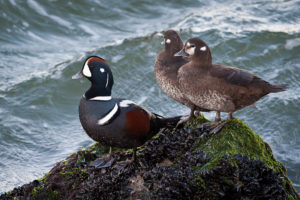 Harlequin Ducks at Barnegat Light – 2012
Our most audacious and grand trip was in 2013. Frank, Barbie and I drove out to: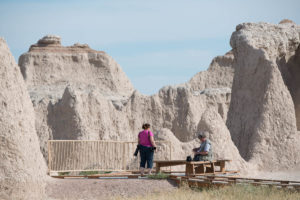 Badlands National Park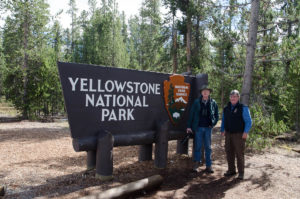 Yellowstone National Park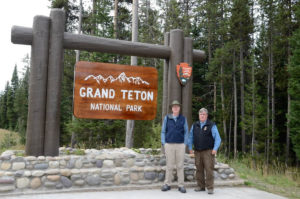 Grand Teton National Park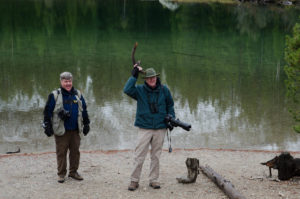 It was a once-in-a-lifetime trip. Here we are in the Tetons clowning it up as Barbie captures the fun.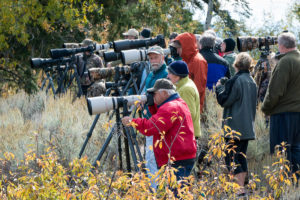 We're shooting moose in the Tetons. Somewhere in that crowd is Frank chatting up some stranger. The only thing he loves better than photography is finding someone to share a story with. I think it's a Navy thing…he loves to meet new people.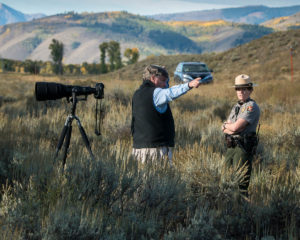 Another day, another park, another Ranger meets Frank. We're shooting Moose again in the Tetons and Frank is 'splaining to the Ranger why he NEEDS to be there. He's certainly got a way with those female rangers!
The trips I have mentioned here only scratch the surface. We've taken more journeys together than one can imagine. It's been one hell of a ride! Along the way, our relationship has solidified. Frank is much more than just my brother-in-law. He's my friend. He's my close friend. He's my BROTHER!
Frank is a strong man but, cancer is taking him down. A cruel brain tumor has robbed him of his two most precious gifts…sight and speech. He's lived life his own way and experienced things that others can only dream about. I am honored and privileged to have shared part of our lives together.
Godspeed CDR Frank R. Severance, USN(RET)
The Lord is my pilot, I shall not drift.
He guides me across the dark waters.
He steers me through deep channels.
He keeps my log.
Yea, though I sail 'mid the thunders and tempest of life,
I shall dread no anger, for He is with me;
His love and His care, shelter me.
He prepares a quiet harbor before me.
He anoints the waves with oil
My ship rides calmly.
Surely sunlight and starlight shall guide me on the voyage I take,
And I will rest in the heaven's port forever.
(THE PILOT'S PSALM)