We headed back home today after spending a week at our cabin in the Smokies. Last night we got heavy rain at 1,900 feet but, up in the higher elevations they got snow.
Normally, we drive US 441 directly through the park to return home. It's the most direct route and BY FAR the most scenic. I always check the Smokies Road Info on Twitter before leaving to make sure the road is open. Early last night it was closed. This morning it continued to be closed. Fortunately, we were late leaving and when I made my last check around 1pm the road was open. Yay!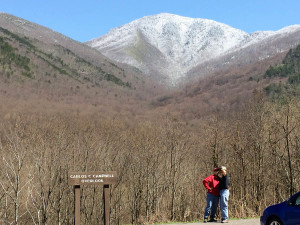 Shortly after making the right turn onto US 441 from Little River Road we came upon a turnout and could clearly see the snow on the mountain tops. My Nikon D800 was packed away so I decided to take some snapshots with my iPhone.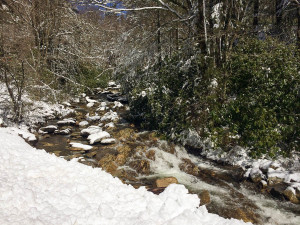 Keep in mind that today is March 30th and the local weather forecast for later this week is supposed to be in the upper 70's.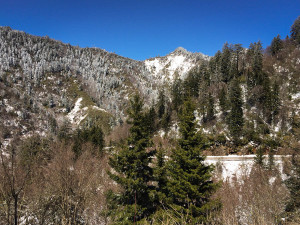 The higher we climbed up the mountains, the deeper the snow. It was one of those wet snows that clings to everything and weighs down the tree limbs.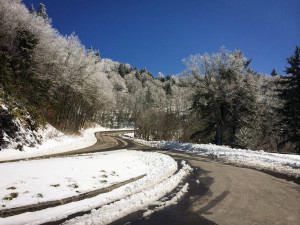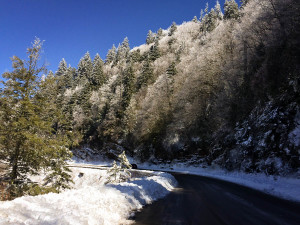 The deep blue sky, white snow and bright afternoon sun made everything in sight just glisten.
This last shot was taken at a turnout a short distance from Newfound Gap. At this point we were at an elevation of about 5,000 feet. The snow looked to be about 6 inches deep.
I think I'm pretty safe in saying this is the last major snow we'll see in the Smokies until next winter. It made for an absolutely beautiful ride home that was so stunning that I decided just to enjoy it rather that dragging out all of my camera gear. But, I couldn't resist taking a few snaps with my iPhone. 🙂