Once again, Mother Nature did her Fall magic in the Smokies. Late October to early November was pretty spectacular. It's funny how the peak colors only occur over a one to three day period. The exact date is difficult to predict with accuracy so, you just have to set aside some time and let things happen as they will.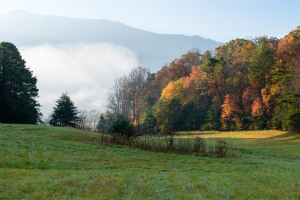 Beth's sister, Barb, and I got up early to visit Cades Cove in the golden morning light. The clouds were still low in the valley but, sunlight managed to find a hole to illuminate a few trees.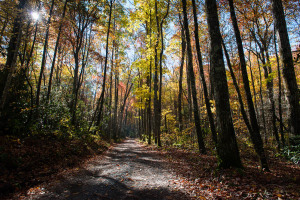 We drove halfway around the loop and decided to take a detour onto Parson Branch Road. It's an eight mile one-way gravel road that leads out of the park towards "Tail of the Dragon".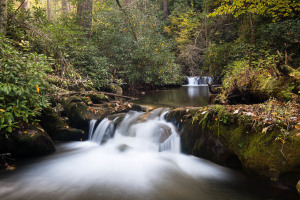 Along the route there are several water crossings and excellent photo opportunities. The park recommends only four wheel drive and high clearance vehicles attempt to take this road so we pretty much had it to ourselves.
We found numerous lovely spots to stop, appreciate the surroundings and make some images.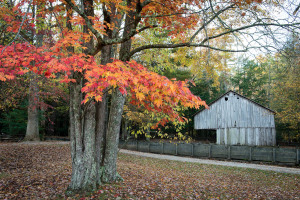 The following day we returned to Cades Cove and walked around the Cable Mill area.
This is one of the old barns with the mill flume in the foreground.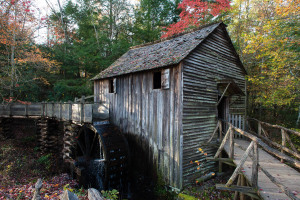 The flume continues a short distance until it reaches the John P. Cable grist mill.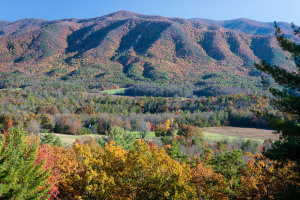 My stepson, Lee, accompanied Barb and I up Rich Mountain Road. It's another gravel road that leads from Cades Cove twelve miles over Rich Mountain and into Townsend, TN. A couple of miles into the trip there's a nice panoramic view of the Cove. You can see the little Methodist Church built in 1902 on the left in this image.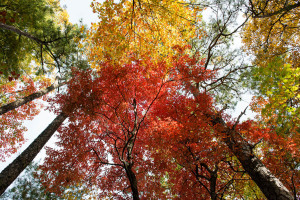 The back-lit trees up on Rich Mountain were simply incredible. Deep reds and brilliant yellows all along the way.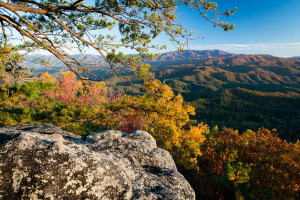 The next day Barb, her husband Frank and I ventured over to the Foothills Parkway. It's Tennessee's version of the Blue Ridge Parkway and wanders over the ridge tops just outside but, overlooking the Great Smoky Mountains National Park. This image was shot near Look Rock.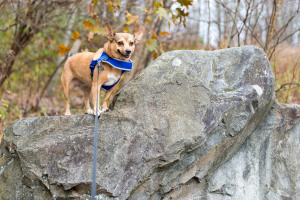 I would be remiss if I didn't mention Paddy, my able photographer's assistant. She's our Corgi/Jack Russell mix who loves to "help me" by jumping on rocks and pulling her leash while I try to photograph stuff. What a ham!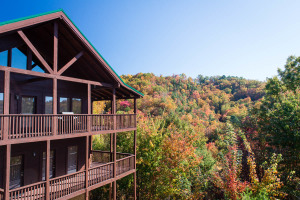 We really needn't drive anywhere to enjoy the fall colors. Simply sitting in a rocking chair on the deck at our cabin was pretty amazing.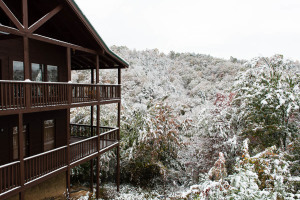 Only two days later the view changed dramatically! We got 4 to 5 inches of beautiful heavy snow.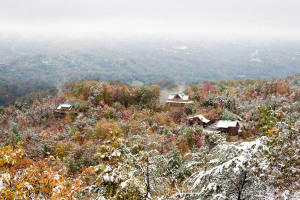 This was shot at the top of Hatcher Mountain looking down on our cabin on the far right and three of the others in our little community. It's unusual to see snow up here when the fall colors are still near peak.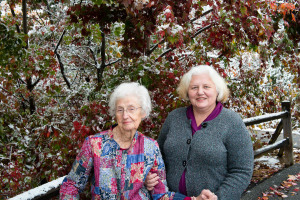 Everyone had to get out and play in the snow. Here's Beth's mom, Mae, along with Barb.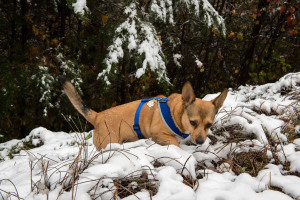 Yes, Paddy enjoyed playing in the snow, too. (while "helping" me)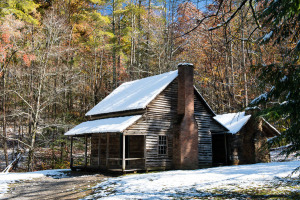 Just as soon as the road was re-opened, we were back in Cades Cove. This is the old Henry Whitehead place.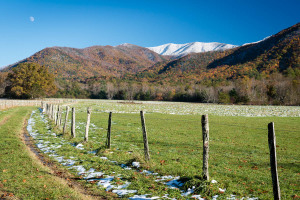 Fall snow isn't common in this area and rarely lasts long in Cades Cove. Only the higher elevations are cold enough to hang onto it.
What can I say? We had great fellowship with close family and some beautiful sights. It was another memorable trip to one of may favorite places on earth.