This is the fifth and final installment of my Florida trip log. The primary destination of interest in this post is the Venice Rookery aka the Venice Area Audubon Society Rookery. This relatively small and easily accessible location is quite simply one of the finest birding locations you will ever hope to see. The Venice, Florida chapter of the National Audubon Society leases the property from Sarasota County and has full responsibility for maintaining the buildings, grounds and all activity. They do an absolutely first class job.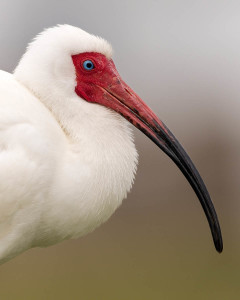 Bird photographers from around the world are drawn here by the diversity of birds and the fact that you can get so close to the animals. It's easy to see the "Carolina Blue" eyes of this White Ibis when you're this close.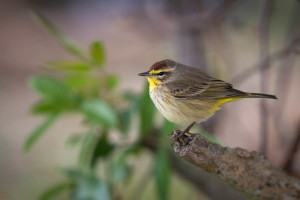 Even passerines such as this tiny Palm Warbler seem to know that this is a safe place and it's ok to be near the humans. This little guy is proudly displaying his full breeding plumage.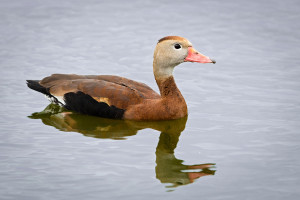 Soon after we arrived we noticed some Black-bellied Whistling Ducks in one of the ponds and fields. These ducks were on my Florida birding "wish list" so they got my immediate attention. They are a Central and South American duck that only visit the very southern points of the US. Unlike other ducks, the males and females look exactly alike. I was fortunate enough to get several nice images.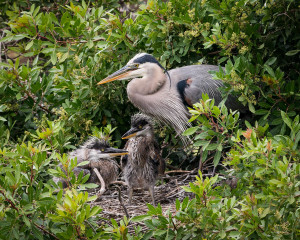 Since it's a Rookery and we were there during nesting season, there were ample opportunities to see birds with chicks. There's a small island in the middle of the main pond at Venice Rookery and it was loaded with nests from several species. These Great Blue Herons are just one example.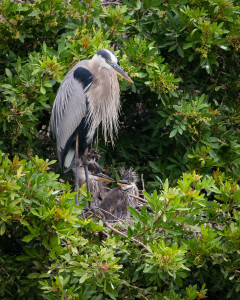 Here's another GBH adult with two chicks. She doesn't look pleased for some reason. Maybe the chicks are driving her crazy.
There were quite a few herons for me to choose from so it came down to which ones had the most unobstructed view, pleasing background and the most favorable light.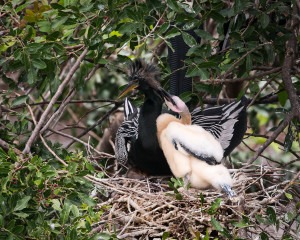 One of the more interesting birds is the Anhinga. The adult has the striking silver markings on black while the chick has a pink head with fluffy buff colored down feathers. Quite a contrast.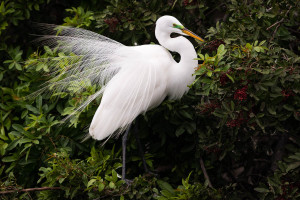 Naturally, I couldn't resist shooting more Great Egrets in their breeding plumage. I just love those silky feathers and the green area in front of the eyes.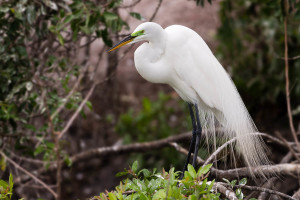 Here's another Great Egret showing off.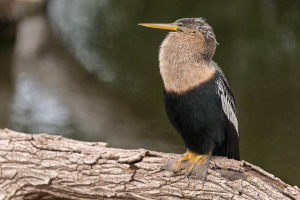 The edges of the pond also have some nice scenic places for birds to perch. This Anhinga has the tan colored neck that signifies breeding plumage.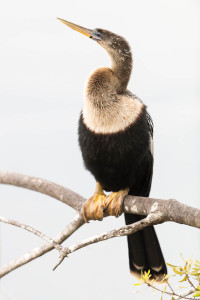 Here's another Anhinga on some dead fall.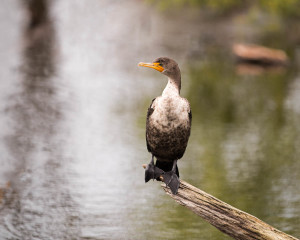 There were a few Cormorants in the area but, I didn't see any that were nesting. This one appears to be an immature Double-crested Cormorant.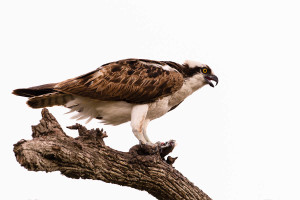 Another area we briefly visited that's not too far from Venice is the Myakka River State Park. It's a huge park and is likely a great place to visit on a better day. Unfortunately, it was windy and very overcast while we were there. We didn't see many birds. This Osprey had snagged a fish and was busy eating it while being very wary of several Turkey Vultures flying overhead.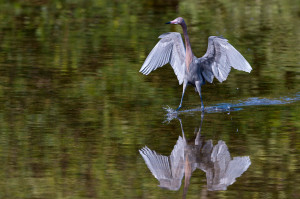 We had originally planned to spend the last few days of our trip down on Sanibel Island at J.N. "Ding" Darling NWR. We found this Reddish Egret there performing his amazing hunting dance. It was mesmerizing.
I had just barely gotten my gear set up and was in the process of dialing in my settings when I got bad news. My wife had walked several yards down the road and fell while walking up the bank. She broke her pelvis in 3 places and also her wrist. We rushed her to the emergency room at Lee Memorial Hospital in Fort Myers. As I write this blog post, it's now been 7 weeks since her fall and she's finally able to put a little weight on her left leg. Her recovery has been slow and excruciatingly painful but, she's getting better.
Although our Florida vacation came to an abrupt end, at least we did get to visit all of the locations we wanted to see. We had a fabulous time (except for the final day), saw an amazing array of wildlife and I made a few images that I'm quite proud of.  In retrospect, we probably tried to visit too many places in the time we had allotted. Next time I think we'll  visit fewer places and spend more time at each place. That way we can have more "golden light" shooting and be able to deal more easily with weather conditions.
One thing's for sure…this will not be our last trip to Florida!