For several years we've wanted to trek down to Florida in late February to early March. This is an excellent time to visit because the birds are in their lovely breeding plumage and the weather is fantastic. This year we decided to pull the trigger and make the trip.
First, I would like to thank a couple of my friends at the Georgia Nature Photographers Association (GNPA) for assisting me in selecting the best places to visit. Steve White and Don Saunders steered us toward some excellent spots for photographing wildlife at this particular time of year and allowed us to make the most efficient use of our limited vacation time.
In addition to figuring out where to go I also put together a "wish list" of birds that I especially wanted to see and photograph. My feeling is that it's always best to start with a plan but, be flexible to adjust as opportunities present themselves. The list (in no particular order) included the Black Bellied Whistling duck, Burrowing Owl, Crested Caracara, Painted Bunting, Roseate Spoonbill, Florida Scrub-Jay and the Wood Stork. My guess was that the Painted Bunting would be the most unlikely to see and the most difficult to photograph even if we saw one.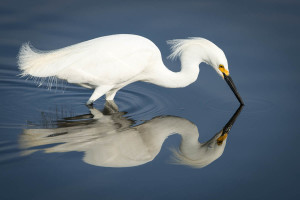 We decided to start our trip on the east coast of Florida at Merritt Island National Wildlife Refuge. This 140,000 acre reserve essentially surrounds NASA's John F. Kennedy Space Center. It includes an excellent visitor center and a superb 7-mile Black Point Wildlife drive.
Our first stop was Black Point. Immediately after turning on the gravel road and paying the $5 fee we saw several birds only a few feet away from us like this Snowy Egret. Wow! We're off to a great start.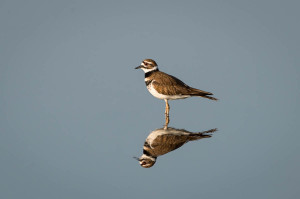 The calm wind and early morning light resulted in some nice reflections. This Killdeer was standing motionless  and hardly disturbing the shallow water.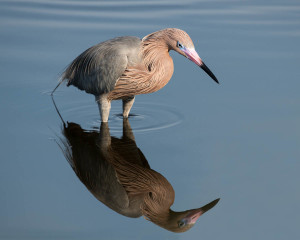 Prior to this trip I had never seen a Reddish Egret. The base of their bill is bubblegum pink and their neck feathers look like a thick shag carpet. When they hunt for food they go through a dance routine that is simply amazing.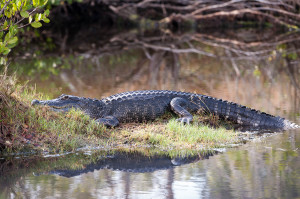 Just about everywhere we went in Florida we saw alligators of all sizes. This big boy was warming himself in the morning sun. It may not be obvious but, alligators and birds have a symbiotic relationship. Raccoons and other predators would gladly eat all of the bird eggs if the alligators weren't there. Some of the best bird nesting areas are surrounded by water and alligators.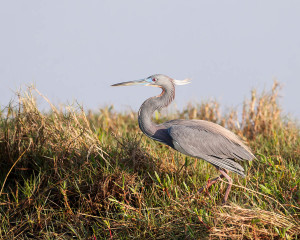 This Tricolored Heron is in full breeding plumage. Check out the blue patch in front of the eyes and the white tuft of feathers behind the head.
After making our first loop around Black Point we decided to check out the Merritt Island Visitor Center. They have a nice boardwalk / nature trail behind the main building.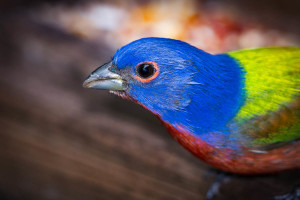 To my surprise and amazement we saw a pair of Painted Buntings eating at a bird feeder.
The vivid primary colors of the male look unbelievable. They are truly one of the most beautiful birds in North America.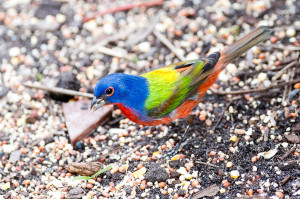 While stunning in appearance they are quite shy. Most of the time they stay concealed in the trees and shrubs. We had to wait for hours to get just a few images. Other birds and one particular bad squirrel managed to keep the Painted Buntings nearby but hidden.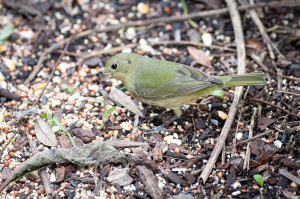 Populations of Painted Buntings have been dropping at a rate of 3.2% per year for several decades. They are currently listed as Near Threatened.
As with most birds, the female doesn't get the technicolor treatment and must settle for a relatively bright green color.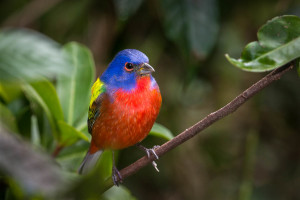 Well, that's one bird I can check off my "wish list". Painted Buntings were seen AND photographed. Woo-hoo!
A short distance down the road from Black Point we saw a sign for "Scrub Ridge Trail". Sounds like a place to look for Scrub-Jays to me!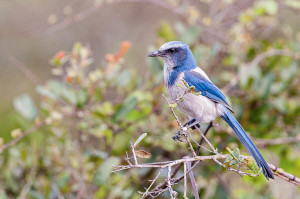 We parked the car, walked a brief distance down the trail and sure enough, we found a Florida Scrub-Jay.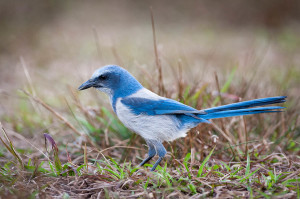 Unlike the Painted Buntings, these beautiful little birds are not shy. They are very inquisitive and will come close if you sit still. They happily bounce around on the ground and in the rare oak scrub bushes checking out everything around them.
The Florida Scrub-Jay is found nowhere else in the world but central Florida. They are listed as threatened, endangered and vulnerable to extinction due to loss of habitat. In 1993 there were roughly 4,000 breeding pairs left. Recent estimates note a 33% decline since then.
Extensive work is being done at Cornell University, the US Fish and Wildlife Service and the state of Florida to study the Florida Scrub-Jay and stabilize or possibly reverse their decline. There is also a move to change the state bird to the Florida Scrub-Jay.
I felt like we won the lottery at Merritt Island NWR. We saw LOTS of interesting wildlife and were even blessed with viewing two rare birds on my wish list.
Next stop… Viera Wetlands. Stay tuned.