We departed Yellowstone National Park on September 22nd and headed south for our week in Grand Teton National Park. Needless to say, we were looking forward to overloading our senses with glorious scenery and captivating wildlife. Spoiler alert – we were NOT disappointed!
Our two bedroom condo in the Aspens development was a nice upgrade from the Dunraven Lodge back in Yellowstone. It was about half the cost and we had a full kitchen so we could cook and save on food as well. After spending nearly two weeks on the road we made good use of the clothes washer and dryer also in the unit. Several nights were cool enough to enjoy the relaxing wood-burning fireplace.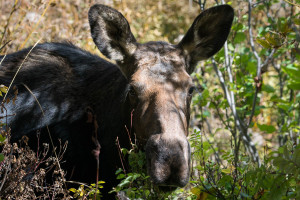 The Aspens are located on Moose Wilson Road. This road actually enters the park just 5.5 miles north of us. Our building was in the rear of the development and backed up to some woods and the mountains. One day I was standing on our back deck and was amazed to see this moose cow grazing just below me. I grabbed my camera and rushed downstairs to check her out. While there I met one of the full-time residents who explained that the cow and a bull had been living in that area for some time and had some offspring. We never saw the bull or the babies but, it was really cool to see moose right behind our condo. With a name like "Moose Wilson Road" I guess it makes sense.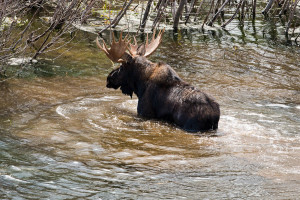 A few miles up this same road but, inside the park we saw more moose. This big boy had his eye on a female grazing across the water. We arrived just in time to watch him cross the little tributary of the Snake River in hot pursuit.
We weren't exactly alone out there gawking at the moose. Photographers with big glass seemed to sprout up like toadstools whenever an animal was spotted. I couldn't resist standing back for a minute and just watching the people watching the animals. There's around $200k of camera gear perched there.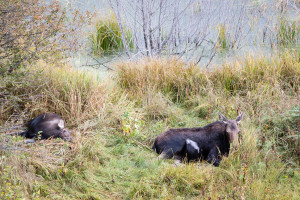 On a different day but in this same area we saw what we thought was a dead cow and baby. They were completely motionless and sprawled out on the grass. After quite some time there was movement so we realized they were simply snoozing. We waited for them to get up and walk around but, they were too comfy. We had to move on.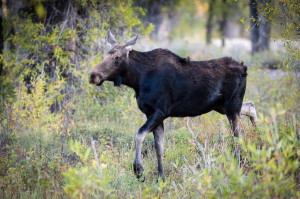 We heard several reports from other photographers that moose were being seen on a regular basis in the early morning hours at the Gros Ventre campground. A couple of mornings we trekked over there but, only saw this cow and some fleeting glimpses of a bull in the distance. We heard the old story: "You should have been here yesterday, the biggest bull we've ever seen was just five feet away". Yeah, and the fish were jumping in the boat.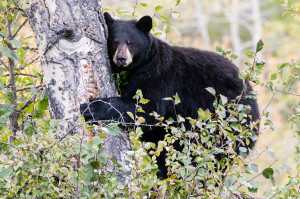 The Laurance S. Rockefeller Preserve is also located on Moose Wilson Road. Two or three black bears were being spotted there almost daily feeding on the huckleberries. I can't resist an opportunity to photograph a bear.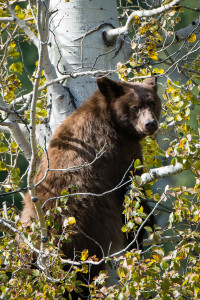 This is the first time I'd ever seen a "Cinnamon Bear". It's actually a subspecies of Black Bear and quite common in the western US. This one was in the same area as the black bear shown above and didn't seem to mind the company. The only difference between them is the color of their fur.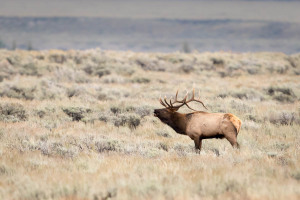 For over 100 years the National Elk Refuge near Jackson Hole, WY has been home to an estimated 11,000 elk. We expected to see lots of elk but, we really didn't. The refuge covers 25,000 acres so it's vast. Our problem was twofold…we were too early for the elk to be coming down from higher elevations and we didn't know exactly where to find them. Fortunately, on our next to last day we got a tip about the Windy Point Turnout just northwest of Moose Junction. We spent the early morning of our last day observing several elk there and got to hear the echo of their bugle bouncing off the mountains. Nothing else sounds like that.
One day my sister-in-law, Barb, and I were exploring some back roads south of Moran Junction. We stumbled on Wolff Ranch Road. There were a couple of wildlife tour vans making their way ahead of us so we followed along. In some spots the dirt and gravel road was questionable even though we had 4-wheel drive. We had to ford 3 creeks that were over the running boards but, if those vans ahead could make it then, so could we.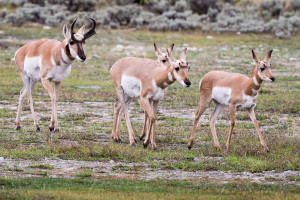 In the first field out there we discovered a nice little herd of Pronghorn. As I mentioned in my earlier blogs, these critters were one of the highlights of the trip for me. They are so interesting to observe and I love their markings.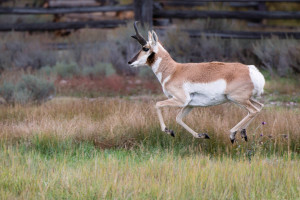 The males have beautiful black "horns" and a big black patch on their neck. The display of that black patch is what gets the females hot.
They can run really really fast but, they can't jump like a deer. They also have a flat motion. Not bouncy like a deer. The one shown here is moving at a medium pace with all four hooves off the ground. He's nowhere near top speed. No predator can keep up with these guys.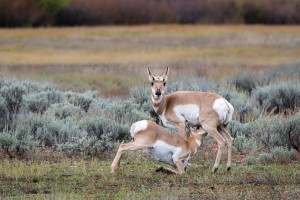 It's time for breakfast!
This juvenile is almost the size of mom and has to get on its knees to eat.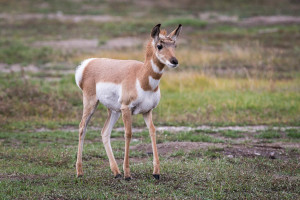 How can you not fall in love with these little critters? The babies are just too cute.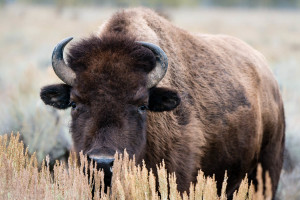 Further down the same road we ran into a huge herd of Bison. At one point our car was surrounded and we couldn't move. They were drinking water from the mud puddles in the road and we couldn't move forward or back. They weren't threatening us but, they weren't moving either.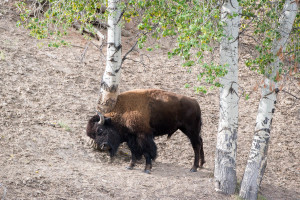 They love to rub on the base of trees. You can always tell if bison are in the area because the bark is rubbed off nearly all the trees.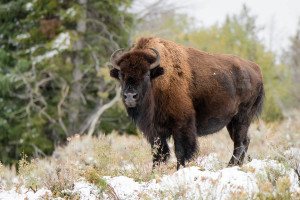 We got a little dusting of snow and it really made them stand out.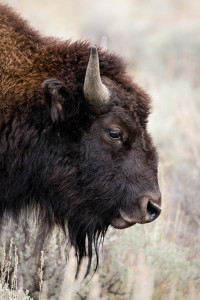 I ended up getting some of my best Bison images out there. So many subjects and situations to choose from. All it took was some imagination to get the shots I wanted.
We didn't have quite as good of weather in the Tetons as we did in Yellowstone so that impacted our light and shooting somewhat. We also tried not to go from dawn til dusk every single day if the conditions were bad. Regardless, we got to see lots of animals and beautiful scenery. It was splendid. My next and final blog post will hopefully show some of that scenery. Stay tuned…