Our third stop in Florida was at Gatorland in Orlando. This family owned business has been around since 1949 and was Central Florida's first attraction. Long before Disney there was Gatorland.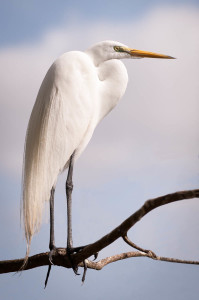 Over the years I'd read several photographer's accounts of the place but, I'd never been there. To be honest, I was concerned that it might just be a tourist trap and nothing more. Thankfully, my concerns were unfounded. Yes, it's a family place and has something for everyone but, the big draw for photographers is the bird rookery. In the middle of the park there's a long narrow pond with a boardwalk running the entire length of one side of the pond. All around the pond are trees and shrubs chock full of nesting birds. This is not a bird zoo and these are not caged birds. All are wild and may come and go at will but, it's a nice safe place to nest so they keep coming year after year.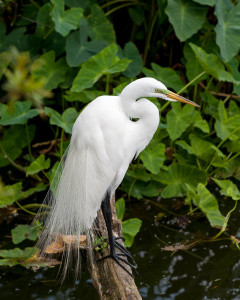 The folks at Gatorland recognize the needs of photographers and even offer a special Photographer Pass. During the bird nesting season photographers can pay a little more on certain days and get early access (7:30 am) and stay until dusk. The normal hours are 10am until 5pm so the photo pass makes sure you're there during the golden hours of light. Since this was our first visit we didn't get the photo pass and simply entered the park at 10am. As a result we missed the best light but at least we got to scope out the park for next time.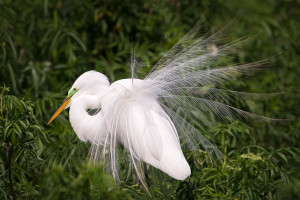 There are several different species of birds but, the Great Egrets were in all stages of nesting during our visit. The Egret in my first image above was not in full breeding plumage. The bird in my second image is in breeding plumage and has the green color in front of the eyes and the beautiful long silky feathers. Finally, this third image shows how the Egrets "display" when they're ready to mate. It's quite dramatic and reminiscent of a wedding dress.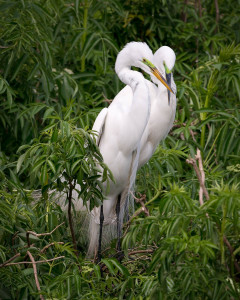 It was fascinating to see so many Great Egrets in all different phases of the nesting season. Some were displaying as shown above while others were being lovey dovey and just beginning to mate like these two.
In some ways it's a challenge to shoot here because there are so many birds that it's difficult to isolate one or two. On the other hand, you can get reasonably good images using anything from an iPhone to a 600 f/4 with a tripod and Wimberley head. I mainly used a 70-200 hand held and a 300 f/2.8 on a tripod. It's an excellent place to hone your wildlife shooting skills and several pros do hold seminars here. I can see why. Often shooting wildlife can be hit or miss but, you'll never get skunked at Gatorland during breeding season.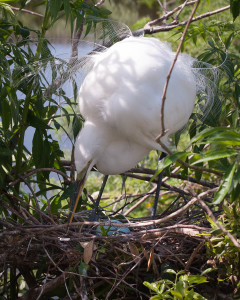 We actually saw a couple of nests with eggs being lovingly cared for. However, I was never able to get exactly the shot I wanted due to limbs and other distractions always being in the way. By this time the light was getting pretty harsh, too. Regardless, it was still very special to see even if the photos weren't the best.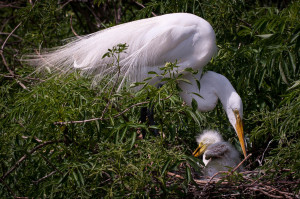 Nobody will ever nominate a baby Egret for the cute baby award! They sort of have a face that only a mother could love. They're pretty aggressive at feeding time as well. The babies will bite their mother's bill and face as she feeds them. I'll bet some adults have lost eyes during the feeding process.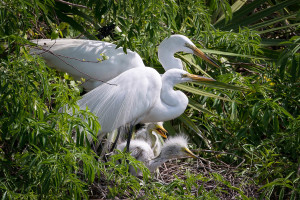 Even in the harsh mid-day light, there's nothing to warm the heart like a family photo.
Gatorland is definitely a place I would return to. The staff was very polite and helpful. They immediately directed us to exactly where we needed to go as soon as they spotted our camera gear. The boardwalk in the bird rookery is plenty wide enough to accommodate tripods and large lenses. We saw several other photogs while we were there so this place is well known.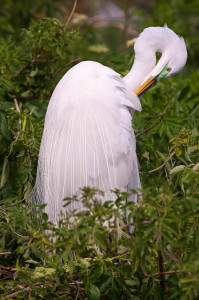 The next time we visit I will certainly pay extra for early access. This particular image was shot at 10:30 am and was one of my first after we arrived. You can see how much better the light is even at that hour. It's worth it to have the early morning light and nice to have the place to yourself before the crowds arrive.
I've still got more images and blogging to do from Florida so stay tuned!