Our forth destination within Florida was Fort De Soto Park. It's the largest park in the Pinellas County park system and occupies 1,136 acres located on the Gulf of Mexico just outside St. Petersburg, FL. The park is a "gateway site" for the Great Florida Birding Trail and very highly regarded by birders and photographers alike. Followers of noted bird photographer, Artie Morris, often hear him mention Fort De Soto and see impressive images he's taken there. When I spoke with members of my Georgia Nature Photographers Association photo club about places to visit in Florida, Fort De Soto consistently made the top three on everyone's list. As a result, I originally scheduled 2.5 days of our 10 day trip to be spent there.
Well, as fate would have it, we saw almost no shorebirds and were left underwhelmed. That being said, I know full well that changes in weather and migration can make major differences in the movement of wildlife. The park really looks like a great place for birds but, I suppose we just hit it at the wrong time. Oh well…we didn't end up seeing exactly what we expected BUT, we didn't get skunked either!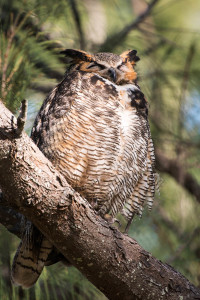 Our first full day there we stopped at the parking lot near North Beach and saw a guy with a 500mm Canon lens on a tripod pointing it up at a large tree. The tree was completely surrounded by orange plastic safety fence. I couldn't resist walking up and asking him what he was shooting. Turns out he came from Iceland to shoot pictures of a nesting Great Horned Owl. He read about it on the internet.
Whoa! How cool is that? I rarely see owls in the wild and would jump at the chance to shoot one. Needless to say, I couldn't get my gear setup fast enough. There we both are, click click clicking our cameras at this adult owl from every possible angle. The whole time the bird hardly moved and never opened but one eye and only then just a slit. I'm still so excited I can hardly keep my camera still.
Then it dawned on me…the guy from Iceland said "nesting Great Horned Owl". Where's the nest and are there any chicks? "Sure", he says. "Look around the other side in the crook of the tree".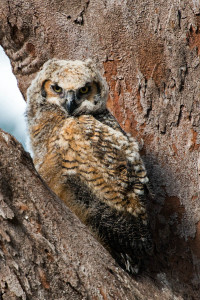 Sure enough, there was a beautiful little owl chick that had not even fledged yet. Unlike mom, this little guy was very much awake and checking out his environment.
All of a sudden Fort De Soto is not looking so bad after all. This little owl is posing for us and I'm burning through memory cards like there's no tomorrow.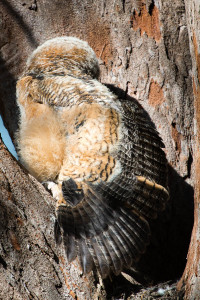 He's showing us his wing and doing this "Count of Monte Cristo" thing. I expect it will be time for flight lessons soon. That wing looks all business to me.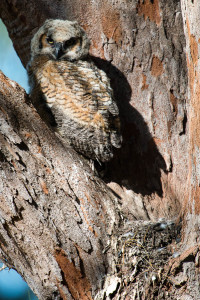 Check out his dinky little nest. That's it in the bottom right corner of the image. It looks like something a robin might use…not a mighty raptor! Bald Eagles build nests large enough to hold a grown man. What's with these owls? Turns out that Great Horned Owls never build their own nest. They simply take over some other bird's nest or just use a handy nook or crevice. I guess owls don't have to worry about things like zoning or homeowners associations. Seems pretty lazy but, that's how they roll.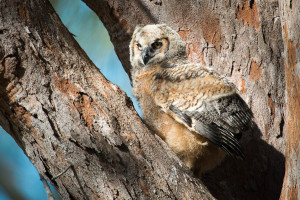 I ended up getting a ton of great images of the adult and the chick and could have stayed there all day just watching them. I would post another image of the adult but, she hardly moved so all of my images of her look pretty much the same.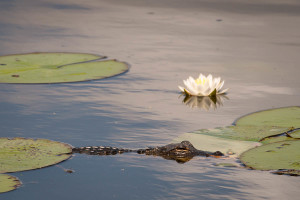 After a hard day of owl shooting we decided to strike out and try to find some Rosette Spoonbills. Where can they be?
I looked at the map and decided to check out any nearby parks and wildlife refuges. Our first stop was at Boyd Hill Nature Preserve. It's a nice little place and has an excellent display of rescued raptors. Various eagles, hawks, vultures and owls. They also have some trails and boardwalks. That's where I snapped this tiny alligator in the lily pads. There's no shortage of alligators in Florida! Sadly, no Rosette Spoonbills though.
Next I found a place called Cockroach Bay Preserve State Park. I reminded my wife that we had already been to a sewage treatment plant at Viera Wetlands so we had to go to Cockroach Bay just to make our vacation complete. (she failed to see the humor)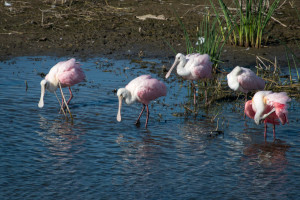 As soon as we arrived at the Cockroach Bay headquarters we saw some large pink birds way out in a pond quite a distance away. After speaking with the local park ranger we discovered that the best and closest viewing spot was at the top of Mount Cockroach. So camera, 500 mm lens and tripod in hand we scaled mighty Mount Cockroach. I'm not certain but, the "mountain" looked an awful lot like an old converted trash pile but, I could be wrong. You don't see many natural mountains in this part of Florida.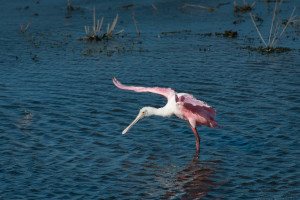 Once we reached the summit we could see the spoonbills far below. It took my 500 mm lens, a 2x teleconverter and some heavy cropping on my D800 but, I got some Rosette Spoonbill images.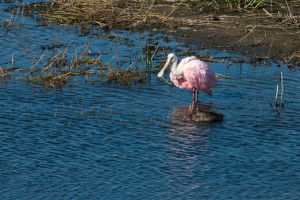 These guys don't want to make anything easy! They really are curious  looking. Maybe next trip we can figure out how to find spoonbills that are less than a mile away. Oh well, notch another bird off my "wish list".
Our Fort De Soto visit didn't turn out at all like I had imagined but, it was worthwhile nonetheless. My original Florida "wish list" had Burrowing Owls and we ended us seeing Great Horned Owls. I can live with that! I also wanted to see Rosette Spoonbills and we did indeed see them. In the future, when I make wishes I'll try to be more specific: "I want to see Rosette Spoonbills close enough to shoot them full-frame with a 300 mm lens". Now we're talking!
More to come from Florida…stay tuned.