We were in the Virginia Beach area last week so we took the opportunity to attend the final day of "Warbirds Over the Beach". This is the WWII airshow put on by the Military Aviation Museum. They have one of the largest private collections of fully operational WWI and WWII military aircraft. Unfortunately, it rained all day and the ceiling was too low to fly. I took a few images anyway just to check the weather sealing on my new Nikon D800. 😉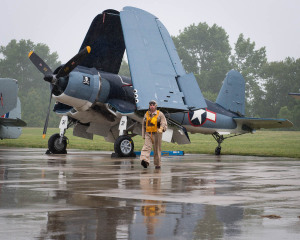 Here's their FG-1D Corsair on the flight line with wings folded. This particular one was manufactured by Goodyear in May 1945. (the F4U was made by Chance Vought and the F3A by Brewster). It's powered by a Pratt & Whitney R2800 engine that produces 2,000 HP. It has a top speed of 425 MPH and a 35,600 ft ceiling. You can almost visualize Maj. "Pappy" Boyington and the VMA-214  "Black Sheep" squadron returning from another mission in the Pacific.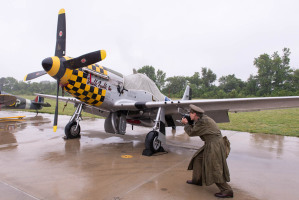 This P-51 Mustang poses for a photographer in WWII period dress. The Mustang was one of the most successful bomber-escort aircraft ever produced and claimed 4,950 enemy aircraft shot down (second only to the F6F Hellcat among allied aircraft). Originally designed with a low-altitude rated Allison V-1710 engine, it did not become a legend until the Rolls-Royce Merlin engine was fitted. This particular P-51 features a Packard V-1650 license-built version of the Merlin. With a 1,000 mile range, 43,000 foot ceiling and 437 MPH top speed it could help insure the bombers reached and returned from their targets in Europe.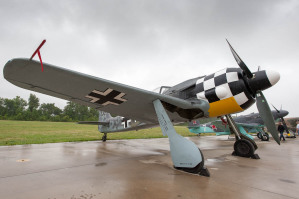 The unmistakable Focke Wulf FW-190 A8 of the German Luftwaffe. It along with the Messerschmitt ME-109 were the main fighter aircraft utilized by the Nazi's. The FW-190 featured a BMW 801 engine that produced 1,950 HP. It had a rather limited range of 500 miles but, a 408 MPH top speed and a 37,430 foot ceiling.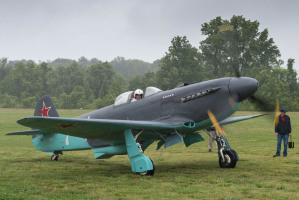 Finally, the Yak-3M of the Soviet Union. Some consider this WWII aircraft to be superior for dogfighting to the P-51 Mustang and the Spitfire due to its handling and high power-to-weight ratio. This particular aircraft is a replica built in 1991 from original Yakovlev parts and dies. It features an Allison engine and has a 405 mile range, top speed of 407 MPH and 35,000 foot ceiling.
I really really wish we had had better weather so I could have seen these and several other WWII aircraft in the sky. It was not to be. Maybe next year…