Nature photography is one of those things where you have to keep your eyes open because something unexpected can happen. You also have to learn to take what you are given and make the best of it.
We had planned to spend a day at Pea Island NWR only to arrive there and find no water in the main pond. That's kind of a big deal when your target is waterfowl. Evidently, hurricane Irene knocked out the dike on the back side of the North Pond last year. Bummer! So, what's Plan-B? Go to Alligator River NWR of course.
We made the relatively short drive inland over to ARNWR and saw some hawks but, nothing close enough to photograph. The most interesting one was an American Kestrel. It would hover in the air for several moments and then dive down into a field. The behavior reminded me of a Belted Kingfisher. It did this several times but, never got very close to us. I'm still waiting for my first opportunity to photograph a Kestrel. We also saw some Snow Geese, Northern Pintails and Black Ducks. Unfortunately, all were pretty far away.
While driving around we met a couple of other photographers who told us they often see Black Bears there. Over the years, I have spoken with numerous people who say they ALWAYS see bears at Alligator River. Me? I've never seen any bears there. ARNWR is also famous for having the world's only wild population of Red Wolves. It's estimated that there are 100-120 living there but, they are rarely seen.
Now, we're bummed about Pea Island and none of the birds at Alligator River want to cooperate. It's getting late in the day and we're losing light. Maybe we can find a bear or wolf? …who knows. We prowl the gravel roads of ARNWR with new goals and a renewed determination.
By Jove it's a Bobcat!
Suddenly, something darts across the road way out in front of us. Frank, who's driving, sees it first. What's that? Maybe a Red Wolf? I grab my binoculars and my camera. By Jove it's a Bobcat! Way cool!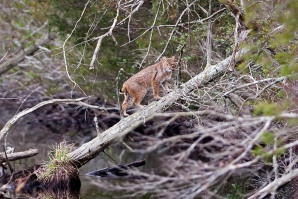 Bobcats are a member of the Lynx family. They are relatively common but, rarely seen because they hunt mostly at night. It crossed the road and was using a fallen tree to make a dry trek over the wide ditch. It paused halfway up the tree for a few fleeting seconds and gave us a look. None of us had ever seen a Bobcat in the wild much less photographed one. I didn't have nearly enough glass to make a good image but, I snapped off a few quick shots handheld with my D700 / 300 f/2.8. Then like a ghost, it was gone. Wow! Things like this are what keep you coming back for more.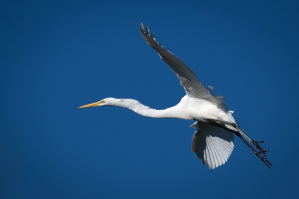 During the same week we decided to check out Mackay Island NWR. It's an 8,200 acre refuge in northeast North Carolina on Currituck Sound. There's very limited access during the winter months because the refuge is technically "closed". We decided to check out the few areas that were still open.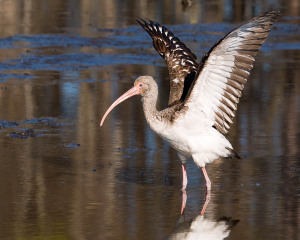 Fortunately, we found a large drainage ditch along the access road teaming with Great Egrets, White Ibis and a lone Tricolored Heron. The White Ibis were mostly all immature ones as you can see from the the dark wings and head. None of these birds seemed to care about us so we kept shooting as they ate and hung around.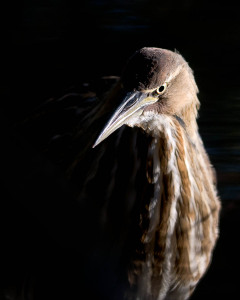 This same week we took a jaunt over to Back Bay NWR near Virginia Beach, VA. Shortly after I began walking down one of the trails I met some folks walking out. They mentioned seeing an American Bittern in the reeds just before the bridge. Sure enough, when I reached that point I saw the bird sitting there motionless saying "I'm invisible…you can't see me!" These birds are notoriously difficult to photograph because they are well camouflaged and generally stay in the reeds where you can't get a clean shot. But, they don't easily stress and move slowly and methodically while prowling for food. If you're patient you might be rewarded.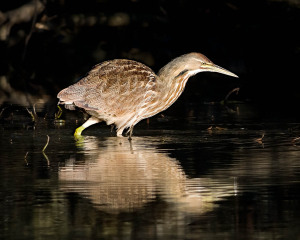 I was able to capture a few close-up portraits and then moved to a walkway on the opposite side of the pond. We waited there for awhile until the Bittern slowly made his way out into an area where I could get a clear shot.
All in all it was a great week even though things turned out a lot differently than we had expected.
Until next time… don't let the cat get your tongue!