Sometimes I dream about photographing some rare and exotic animal like an Iberian Lynx or a Snow Leopard. Even better would be an Ivory-billed Woodpecker. I can just visualize it in my viewfinder but, then I wake up from the dream and slap myself back to reality. There is, however, a rare and exotic animal that I have found and photographed. You can too. Interested? Then read on…
The U.S. Fish & Wildlife Service lists them as Endangered.
Down here in the Southeast US there used to be thousands of Red-cockaded Woodpeckers (RCW's). Since they only live in old-growth pine forests (which were logged out years ago) their numbers fell to near extinction due to loss of habitat. Today, there are fewer than 1% remaining. The U.S. Fish & Wildlife Service lists them as Endangered. The IUCN Red List of Threatened Species lists them as Vulnerable. Sounds like "Rare and Exotic" to me!
Piedmont National Wildlife Refuge is a 35,000 acre refuge located 25 miles north of Macon, GA. It's the home for approximately 40 clusters of RCW's. Over 45 miles of gravel roads provide excellent access throughout the refuge. The only downside right now is that no "facilities" are currently available due to a large renovation project to rebuild the dam at Allison Lake. But, that's not a big deal because the woodpeckers can be found elsewhere.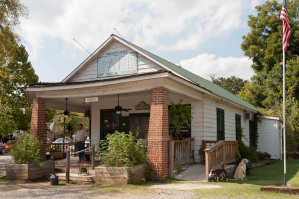 Driving to Piedmont NWR from the Atlanta area will take you down I-75. Take Exit 186 in Forsyth, GA and go left on Juliette Road toward Juliette, GA. If you're going to be passing through Juliette anywhere from 11am to 4pm then you absolutely must stop at the Whistle Stop Cafe. Sound familiar? That's where the movie Fried Green Tomatoes was filmed. The homestyle southern cooking is excellent and the service is superb. Start off with some fried green tomatoes and then chow down on a country fried steak, mashed potatoes, collard greens and cornbread. Wash it all down with sweet tea served in a Mason jar. Yum! Be sure to save room for the pecan cobbler.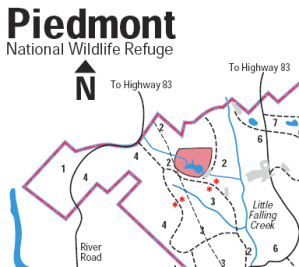 OK, where was I? Oh yeah, rare little birds… You'll want to print the full refuge map available on the FWS.gov website HERE. The refuge is divided into "compartments". The area where I have seen RCW's on multiple occasions is near a small pond in the northwest corner of the refuge in compartments 2, 3 and 4. (Marked with four red * in a small segment of the map shown here). They used to nest closer to Allison Lake but, after the dam broke and the lake dried up, the birds relocated.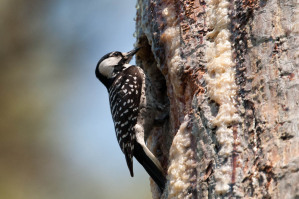 Several of the nests are close to the road but, you have to know what you're looking for. RCW's are about the size of a Cardinal and only slightly larger than a Downy Woodpecker. Even though they are called RED-cockaded Woodpeckers it's unlikely that you will ever see any red on the bird. The tiny red "cockade" is only visible on the males, when they're in breeding plumage AND when they're defending their territory. (I think the planets have to be in a certian alignment as well.) The way to find the birds is by first finding an active nest. The Rangers have done some of the work for you by painting green bands around trees to signify an RCW cluster is nearby and a white band to signify that an RCW nest is in that particular tree. Some of these nests are no longer active, however. Active nests can be found by looking for a hole 20-30 feet up the tree that has white sap running down the tree all around the area near the hole. RCW's peck small holes in the tree to make the sap run as a deterrent to predators.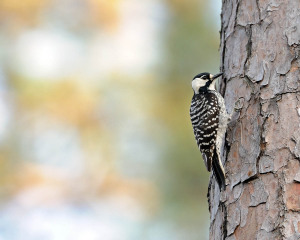 Once you find a likely active nest then just quietly hang out until the birds show up. Sometimes you will hear their drumming or more likely, their chirp. The best time to see the Red-cockaded Woodpeckers at Piedmont NWR is early in the morning or late in the afternoon in early Spring around March. That's when they're in breeding plumage and you may see the red "cockade". But, the birds can be seen in the refuge year round.
Have fun and happy birding!