For me, no trip to Southeast Virginia is complete without at least a day down at Pea Island NWR and another day up at Chincoteague NWR. Both of these areas are premier birding hot-spots and well worth the drive.
Pea island NWR is located on the north end of beautiful Hatteras Island in eastern North Carolina. The refuge is nearly 6,000 acres and includes 1,000 acres of managed waterfowl impoundments. The bird list includes more than 365 species. You can't do much better than Pea Island if birding is your thing.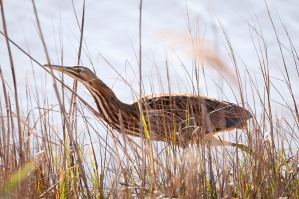 The American Bittern is one example of what this NWR has to offer. These well-camouflaged herons are usually hanging out in the reeds but, they're seldom seen. When startled, they stand still and erect in a vertical position so that their stripes are parallel to the reeds. This makes them very hard to spot. Even if you do see one, they're nearly impossible to get a clear shot. So far, this is my best American Bittern image. (It's not much to brag about.)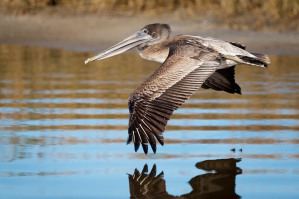 Brown Pelicans seemed to follow me everywhere I went on this trip. Nature photography is one of those things that you have to "take what you are given". Sometimes you go out with the intent of shooting X but, are blessed with Y. Pelicans are cool so, I didn't mind that they were "Y" on this trip. Besides, you can never have enough good Pelican images 😉
Sometimes you go out with the intent of shooting X but, are blessed with Y
Chincoteague NWR has become my overall favorite place to photograph waterfowl and shorebirds. It's over 14,000 acres and ALWAYS has interesting birds to view. In addition to the large number of species, you can get relatively close to the birds here. The ditches and ponds near the wildlife loop road and Tom's Cove road provide great photo opportunities right from the car. The 3.25 mile loop isn't open for motor vehicles until 3pm and closes at dusk. In addition, there are several hiking trails and places to escape the crowds to view nature.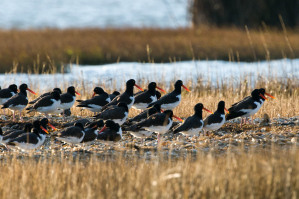 American Oystercatchers are usually found near a bridge on Chincoteague Road before you actually get to Chincoteague Island. Each time I'm in the area I stop by and try to capture a decent image but, so far, no luck. The birds always manage to be 1) too far away and 2) between me and the sun. You can see in this shot how they're lined up laughing at me! Grrrr 🙁 This was the best I could do on a sunny and windy day using 1500mm of firepower. I'm not giving up so easily though. Next time, I'll find one of these funky little birds a bit closer on a nice overcast day and get my shot. I can't resist the way they all look like they have a carrot sticking out of their head.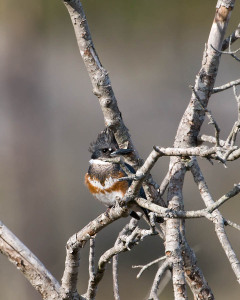 You gotta love the Belted Kingfisher. These little guys may be small but, they make up for it with a loud mouth and an attitude. They have that punk hairdo going on and constantly chat as they hover in the air and then plunge headfirst into the water for fish. I love to watch them and they will usually stay in the same area for quite a while. This particular Kingfisher was near the road to Tom's Cove. It's a female because it has a brown breast band below the bluish-grey breast band.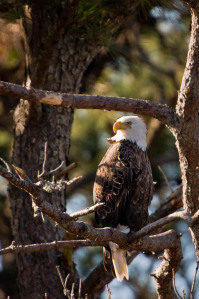 More and more often, we are seeing Bald Eagles at Chincoteague. There's a nest just off the loop road so we always stop in that area to see if they're home. It's a LONG way from the road to the trees so, you have to bring a big telephoto lens to capture them. You don't want to approach any of the wildlife here and cause them stress. This eagle was not far from the nest. I had to shoot it with a Nikon 500 f/4 using a 2X teleconverter and a D300. Basically, 1500mm of lens. It was very windy, too. The shot is not great but, hey, it's a Bald Eagle! The National Bird!
I didn't get any "great" images at Chincoteague or Pea Island this time but, I saw lots of wildlife and had a fantastic time. As they say: "A bad day at Chincoteague is better than …" Well, you know what I mean.
Until next time, don't let your shutter flutter!